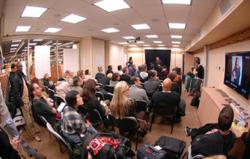 B&H Photo Video is excited to share with the photography industry the "Photografest" at the B&H Event Space
NYC, NY (PRWEB) October 03, 2011
B&H Photo Video is excited to share with the photography industry the Monthly listing of free workshops and special events.
It's "Photografest" at the B&H Event Space this October as the leaves change and we color your education in our newly renovated Event Space.
Frank Dispensa kicks off our inspirational Sundays with Creating the Perfect Digital Negative, then paint the fall chroma with your lens at Fall Colors and Portraits in Central Park with Lensbaby.
Master the Basic Headshot with Peter Hurley, receive tips and techniques for workflow & follow focus HDSLR Filmmaking with the legendary Bruce Dorn in the Western Digital (WD) Creative Masters Workshop.
Robert Jacobs makes you hungry to shoot food while award winning photographer Elizabeth Weinberg shows you the interaction of light and color.
To coincide with the PhotoPlus East trade show we have assembled some of the best talent in the industry to stop by the B&H Event Space including Bob Krist, Stacey Pearsall, Sal Cincotta, Ron Martinsen, Mikey Thompson, and Henry Horenstein. Get your portfolio reviewed at our 4th annual Maine Media Portfolio Review. Take the B&H Photo Video free shuttle bus from PhotoPlus East when you visit the trade show and get your hands on the latest and coolest Photo gear at the B&H Super Store.
The B&H Event Space is a leading-edge learning environment designed to educate, inspire, and cultivate a community of like-minded individuals, who aspire to be great at what they love to do. By offering free workshops and lectures in photography, video and pro audio, it is our mission to help those in this community achieve their goals.
The B&H Event Space partners with major photography manufacturers in the imaging industry and academic institutions in the arts to produce a wide range of workshops and seminars covering a vast spectrum of topics. B&H "Mavens," employees who are experts on a specific topic, teach classes in the Event Space. On Sundays, high-profile and emerging photographers, as well as industry professionals, deliver inspirational lectures about their work and spin their personal tales of success.
The B&H Event Space is more than a physical space. We feature event videos online that are also available through podcasts, so that you can view them at home or while traveling.
B&H is pleased to offer an astonishing array of free seminars and inspirational lectures by talented pros from around the world. You can self-register online to guarantee a seat.
The B&H Event Space is located on the second floor of our SuperStore, at 420 9th Ave, New York, NY 10001.
You can FaceBook Fan us
Follow B&H Photo Video at Twitter
About B&H Photo Video
As the world's largest source of photography video and audio equipment, B&H Photo-Video is known worldwide for their attentive, knowledgeable sales force, and excellent customer service, including fast, reliable shipping. Visitors to the website can access a variety of enlightening articles and educational videos. B&H has been satisfying customers worldwide for close to 40 years.
###