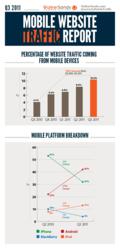 Chicago, IL (PRWEB) October 03, 2011
Walker Sands Communications, a full-service marketing and public relations firm, announced today the results of its Q3 Web Traffic Report tracking website trends across a number of B2B and B2C web clients. On average, mobile traffic accounted for more than 10% of total traffic in Q3, up from 4% in Q3 of 2010. The growth represents an increase of 153% in the last year and has forced marketers to rethink their mobile strategies.
"Most people are well versed in the growth in smartphone sales, but few consider the impact of this on their own site," said John Fairley, Director of Digital Services for Walker Sands. "Companies think only the most sophisticated consumers are browsing on a smartphone. Our study shows that across every industry, even traditional ones like construction, manufacturing, and logistics, mobile now accounts for a statistically significant percentage of all website traffic. Any business with an online presence should be planning strategies for this channel."
Mobile Browsing by Device
The study also examined website traffic by device and found the vast majority (87%) of mobile traffic originates from small screen smartphone devices. The data showed growth in Android marketshare at the expense of Apple's iPhone, but growth in tablet browsing from the iPad was also growing.
Total mobile website traffic was broken down by device:
iPhone: 32% of total mobile traffic, down from 53% in Q3 2010
Android: 42% of total mobile traffic, up from 22% in Q3 2010
BlackBerry: 4%, down from 10% in Q3 2010
iPad: 13%, up from 8% in Q3 2010
These findings are in line with the strong growth in smartphone and tablet device sales since 2010, added Fairley. According to Forrester Research, tablets are expected to experience a corresponding surge in traffic in the coming years, with sales predicted to surpass laptop, PC, and netbook sales by 2015.
Conversion Rates by Device
Although tablet devices represent a smaller portion of total mobile traffic, conversion on these devices is much greater than traditional smartphones. As this market continues to grow, marketers can find the opportunity to appeal to this audience as the conversion rates are close to a traditional desktop/laptop experience. The conversation rates in Q3 by channel:
5.8% conversion rate for desktop
5.5% conversion rate for iPad
1.5% conversion rate for Androids and iPhones
"Tablet browsing mimics a traditional PC experience because of its larger screen," added Fairley. "At the very least, websites should be optimized for smartphones, as we can reasonably expect the mobile traffic rate to continue to increase as the global proliferation of mobile devices continues. It would be in the best interest of businesses that have an online presence to create a mobile-optimized site. This will ultimately drive traffic, and they will likely experience not only a higher click-through rate, but larger conversion rate."
Email Marketing
The Walker Sands' study also found that companies that execute email marketing campaigns see a larger percentage of website traffic from mobile than those that do not. This is consistent with recent research conducted by comScore, which found in November 2010, the number of visitors to web-based email sites declined 6% compared to the previous year.
During the same period, users accessing email through a mobile device grew by 36%. The combined data suggests that the total number of consumers using desktops for email is declining, while the total number using mobile for internet browsing and email is growing. Those who do a high volume of email marketing should therefore expect a greater percentage of mobile traffic.
"Most mobile concerns have centered around how the messages render, but marketers really need to think about what happens upon click-through," said Daniel LaLoggia, Search Marketing Manager at Walker Sands. "Even for email marketing that doesn't render well on a mobile device, we're still seeing an increase in traffic for those clients. People who do email marketing need to be prepared for a greater influx of mobile traffic."
Discovering Your Website Mobile Traffic
With mobile traffic growing to a significant level, it's important to check your own site and be proactive in the steps toward making your site mobile friendly. For a step-by-step guide to determine your own mobile traffic, visit http://www.walkersands.com/mobiletraffic.
Walker Sands Quarterly Web Traffic Report
The Walker Sands Quarterly Web Traffic Report is compiled on a quarterly basis to determine significant web trends. The report is compiled by examining web analytics data across a wide range of B2B and B2C clients in multiple industries. Insights are shared on the first business day of the new quarter for insights derived from the previous quarter. For more information on this study visit, http://www.walkersands.com/quarterlymobiletraffic.
About Walker Sands Communications:
Walker Sands Communications is a full-service marketing and public relations firm focused on generating sales growth for our business to business clients. We provide marketing support for a wide range of clients, everything from large Fortune 500 brands to small startup ventures. Firms have been counting on Walker Sands since 2001 for services ranging from basic marketing strategy to our advanced SEO programs. Visit http://www.walkersands.com for more information.
###