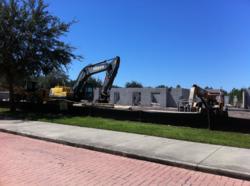 What we did in the downturn is proving to have been a successful strategy...
Lakewood Ranch, FL (PRWEB) October 03, 2011
Commercial construction rebounding in Lakewood ranch, FL.
Projects totaling more than $100 million in commercial growth are underway.
Drive through the thriving community of Lakewood Ranch, Fla. and people will see 165 homes under construction and several commercial construction projects up and out of the ground—totaling more than $100 million in private investment dollars. "We are seeing a significant increase in commercial activity on the Ranch in response to the 18 month surge we have had in residential construction," said Brian Kennelly, president of LWR Commercial Realty. "Traditionally commercial real estate lags behind a bit, and we are now entering that rebound stage."
A number of private companies are joining Ranch developer Schroeder-Manatee Ranch, Inc. (SMR) to bring a mix of homes, apartments, retail stores, schools and other office space to Lakewood Ranch, a region of the Manatee/Sarasota County area that has come back first in the real estate market and has already sold more than 260 new homes since the start of this year.
Current commercial projects under construction in Lakewood Ranch include: The LECOM School of Dental Medicine, an 110,000-square foot-building expected to cost $52 million and to be completed in 2012. The Lost Creek apartment complex will be home to 272 units, costing about $30 million to construct. The first residents will move in this December. This is the first new apartment complex to be built in Manatee County in the past six years. Faith Life Church is renovating an existing building to accommodate 2,500 seats for its congregation and is installing state-of-the-art multimedia technology on a 10-acre parcel in Lakewood Ranch. Reflections, a 40-residence memory care facility is under construction now and is expected to be complete in the first quarter of 2012, costing about $7.5 million. Goodwill Manasota will open doors to its new 2,200-square-foot donation center in November. Kauffman Tire, under construction now in the Lakewood Walk shopping center, cost approximately $750,000 to construct and will open in early December. Developer SMR is adding lights to eight fields at The Premier Sports Campus in Lakewood Ranch, at a cost of $1.1 million, to accommodate later field play at the 75-acre complex, home to 23 full-size athletic fields.
"What we did in the downturn of the market is proving to have been a successful strategy," said Kennelly. "The investments we made are beginning to pay off, like securing 3 million square feet in concurrency—allowing us to deliver shovel ready projects to the private sector now, making it easy for business owners to come in and hit the ground running. Everything is in place to start building, there are no entitlements needed, no rezoning necessary because we took care of all of that in the downturn. It has positioned us to be able to react quickly and make deals in this improving market."
In addition to the commercial construction underway now, SMR has taken on several leasing-tenant buildouts on Main Street, Lakewood Ranch's mixed use lifestyle center. Since the beginning of 2011, there has been $2 million invested into tenant construction for new businesses at the thriving shopping center, which features restaurants, retail and family activities located in the heart of the award-winning community of Lakewood Ranch. Two new businesses have opened in the past month, with three additional grand openings expected before the end of the year.
The Ranch's first active adult community, Esplanade by Taylor Morrison, broke ground in August and will cost about $5 million to develop. These projects, in addition to road improvements and several other smaller neighborhoods and office buildings in the works, will make Lakewood Ranch the fastest growing area in the state of Florida.
The development boom furthers SMR's goal of becoming a job center and economic hub with a mix of retail, residential and commercial properties intertwined with natural wetlands and preserves, making Lakewood Ranch the largest green-certified master planned community in the country.
The 8,500-acre, master-planned community—ranked No. 2 in the state of Florida and No. 12 in the country by national real estate consulting firm John Burns consulting—began construction and development back in 1995. With most of the initial development closer to University Parkway, Ranch leaders see the area just north of state road 70 as the new growth center, and profect it to be the eventual heart of the community. Others, like Ranch builder and developer Pat Neal, have dubbed that section of Lakewood Ranch "the center of the universe."
There are 17 new home builders in Lakewood Ranch, with 41 new home models for prospective buyers to see, and it is currently home to about 15,000 people and 12,000 jobs. There are more than 7,000 homes in the community.
Lakewood Ranch is the 8,500-acre award winning master-planned community in Sarasota and Manatee counties on the West Coast of Florida. Just minutes from the Gulf Coast beaches, and cultural assets in Sarasota, Lakewood Ranch is already home to more 15,000 residents and features A-rated schools, a hospital, the Sarasota Polo Club, its own Main Street with theaters, shopping and dining, and four million square feet of commercial property. For more information Visit http://www.lakewoodranch.com.
###