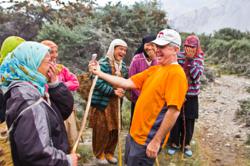 I was also given the choice to bring in heavy, modernized equipment but knew that would forever tarnish the impeccable beauty of the environment. The process is a difficult one, but I stand behind my decision 100 percent
Salt Lake City, UT (PRWEB) October 04, 2011
Bruce McMullin of Sibu Beauty recently returned from a 10-day trip throughout the upper territories of the Tibetan cultural region for the annual sea buckthorn berry harvesting season and continued to fulfill his mission to employ local workers and keep the natural beauty of the environment intact while providing the best sea buckthorn berry-based beauty and wellness line of products to consumers.
The journey had McMullin, his wife Jean, a team of photographers, videographers, and writers as they ascended to 12,000+ ft. where the miraculous berries are grown. The relatively short harvesting season lasts about 3 weeks a year and the gathering of the berries are done by a group of local women where they literally beat the bushes with a stick and collect only ripened fruit into burlap ground cloths. The fair-trade wages, paid to the workers, enable them to sustain themselves and their families during the brutal Himalayan winter.
When asked what motivated him to engage in a fair-trade arrangement, McMullin explained, "These people are some of the kindest, unassuming human beings on the planet. They and their ancestors have been using the sea buckthorn berry for hundreds of years to treat all types of ailments and conditions. Dr. Oz recently touted sea buckthorn as a true miracle berry on his show. The berry is packed with a nutrient-rich combination of over 190 bio-actives, vitamins and is a powerful source of Omegas 3, 6, and 9, as well as a rich source of the elusive, naturally occurring essential fatty acid, Omega-7 (Palmitoleic acid), which is vital to collagen and mucus membrane production."
McMullin continued, "I always set out to do the right thing and employing the local workers who are in imminent need of support, was the right thing. I was also given the choice to bring in heavy, modernized equipment but knew that would forever tarnish the impeccable beauty of the environment. The process is a difficult one, but I stand behind my decision 100 percent."
Sibu Beauty, provides 100% natural beauty and wellness products based on sea buckthorn berries and the company, along with McMullin, are becoming recognized for the Himalayan superfruit to the Western world.
Shortly after being harvested, the berries are processed and then shipped to the U.S. where the finished products are made. The entire Sibu Beauty line uses natural and USDA certified organic sea buckthorn oil and certified wild-crafted juice to produce goods that are nourishing to the skin, hair and nails. . The products' packaging is certified by Sustainable Forestry Initiative (SFI) a non-profit organization responsible for maintaining, overseeing and improving a sustainable forestry certification program, devoted to encouraging the responsible management of the world's forests.
Sibu Beauty products can be purchased online at Sibu Beauty's Online Store or can be found in the aisles of many leading retailers including select GNC stores, Whole Foods Markets, Akins Natural Food, Chamberlin's Market, Sprouts, New Seasons and Sunflower Markets, as well as hundreds of specialty retailers throughout the U.S. and Canada.
For more information about Sibu Beauty and the health benefits about the powerful and nutrient-rich sea buckthorn berry, please visit http://www.sibubeauty.com.
About Sibu Beauty
Sibu Beauty (http://www.sibubeauty.com) was introduced in early 2009 to provide customers worldwide with a comprehensive approach to beauty from the inside out and outside in. The Sibu Beauty product line is based on a powerful and distinctive whole food source, the sea buckthorn berry. This super food is backed by hundreds of scientific studies demonstrating its success at addressing a variety of consumer needs including improved skin tone and texture, healthy aging and digestive health and noticeable improvements in cardiovascular fitness, energy and weight loss.
About Sibu, LLC
The products of Sibu Beauty - a subsidiary of Sibu, LLC (http://www.sibu.com), "The Sea Buckthorn Company" - are made with only premium sea buckthorn berries exclusively grown and harvested for the company in the Himalayan Mountains of Tibet. The company's meticulous harvesting process results in a more hardy and potent berry. Sibu's proprietary manufacturing process maximizes the efficacy of sea buckthorn raws, producing one of the most nutrient dense sea buckthorn products available on the market today. The Tibetan villagers who are responsible for harvesting Sibu Beauty's sea buckthorn berries benefit from a fair trade agreement, safe and healthy working conditions and environmentally responsible practices that ensure they will enjoy the benefits of the sea buckthorn harvest for years to come.
###