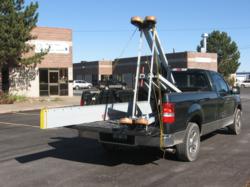 Ft. Erie, Ontario (PRWEB) October 05, 2011
Allstate Crane Rental, Inc. (allstatecranes.com) a full service mobile crane and rigging service located in Goose Creek, SC faced a major lifting problem. They had to find a way to lift and move a 9000 lb. power inverter located on the fifth floor of the new Boeing assembly plant in North Charleston, SC. The problem was not just the weight and location but the inverter had to be moved and placed on an 18 in. tall pedestal.
Phil Veil, Allstate's representative and a 25 year industry veteran, knew he had to come up with an innovative solution to meet the challenge of lifting and moving the inverter. The ideal solution would involve a lightweight, portable and strong gantry crane that could handle the inverter's weight and the stress of moving it a significant distance to the pedestal.
Phil scoured the Internet for rental houses that might have portable gantry cranes for rent. During his lengthy search Phil found eme. He was relieved to discover that eme had rental dealers in Canada who had their five ton portable 'Box Beam' aluminum gantry cranes in their fleets. The best Phil could find in the US were a couple of 'I' beam aluminum three ton gantry cranes. Instead of being able to use one crane to lift and move the inverter he was faced with the challenge of having to try to co-ordinate and move two cranes while under load.
Phil reviewed his options and opted to rent an eme five ton gantry crane from Jobsite Industrial Rental Services' branch in Burlington, Ontario. The unit was shipped to Allstate's facility in Goose Creek, SC. and delivered to Boeing's site the next day.
Phil knew he had made the right choice when he and his crew, having never seen eme's 'Box Beam' gantry crane before, assembled the unit using just two wrenches in twenty minutes without the need for any rigging equipment. This compared with his crews previous experience of taking more than two hours to assemble a competitor's aluminum 'I' beam style two ton gantry crane.
The lift and move went as planned and within the week Phil shipped the eme gantry crane back to the Canadian rental store.
Based on his own knowledge of the industry and experience with eme's five ton lightweight and portable aluminum gantry crane and the many positive comments he received from other trades at the Boeing site Phil convinced the owner of Allstate Crane Rental to begin building a rental fleet by investing in a two tonne and three tonne unit for company use and for rental to the company's customers and other rental stores. Today Allstate is eme's full service dealer for NC, SC and GA.
For technical information and sale or rental pricing on eme's line of lightweight and portable aluminum 'Box Beam' gantry cranes contact Allstate at 800-982-3499.
###