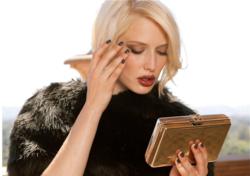 "Maya Stewart's designs bring a fresh take to luxurious style," said Jill Fraser, company co-founder and chief executive officer. "We are also lucky to have this collection shot by Lance Staedler, who has one of the best photographic eyes in the world."
San Francisco, CA (PRWEB) October 03, 2011
Luxury fashion brand Jill Milan today announced its Fall 2011 collection of luxury handbags, designed by Maya Stewart and photographed by renowned fashion and celebrity photographer Lance Staedler.
"Maya's designs bring a fresh take to luxurious style," said Jill Fraser, company co-founder and chief executive officer. "We are also lucky to have this collection shot by Lance, who has one of the best photographic eyes in the world."
New designs featured in Jill Milan's Fall 2011 collection include the Art Deco Clutch, available in silver or gold, and the Pacific Heights Clutch, an oversized clutch available in a faux patent leather among other fabrics. "This collection has some wonderfully innovative designs for both day and evening," Fraser said. "In particular everyone loves the handmade Art Deco Clutch."
Maya Stewart previously worked for leading brands such as Judith Leiber, Matthew Williamson and C.C. Skye. A graduate of the London College of Fashion, recognition of her work includes the Professor Jimmy Choo Award, the Link-It Lock-It Competition, and the Lineapelle Young Designers Contest.
Lance Staedler is renowned for his fashion and celebrity shots and has photographed top fashion brands such as Armani, Ferre, Gucci and Yves Saint Laurent for leading publications including Vogue and Glamour. His celebrity subjects have included Johnny Depp, Colin Farrell, Angelina Jolie and Kate Moss. Staedler photographed the Jill Milan collection on the grounds of an iconic hotel, The Langham Huntington, Pasadena.
Jill Milan's Fall 2011 collection was manufactured in Italy by artisans with a heritage of crafting the best luxury accessories in the world and who produce handbags for some of Europe's most exclusive fashion companies. As with all Jill Milan products, the brand's latest collection of handbags are made entirely free of leather and other animal-based materials.
About Jill Milan
Jill Milan delivers luxury fashion and lifestyle products with a commitment to cruelty-free design and manufacturing. Jill Milan products are free of leather-based materials and the company designates proceeds from sales of certain items to animal-welfare organizations. Visit Jill Milan on the Web at http://www.JillMilan.com, and follow Jill Milan on Twitter at http://www.twitter.com/Jill_Milan or at Facebook http://www.facebook.com/JillMilanHandbags.
Jill Milan and the Jill Milan logo are registered trademarks of Jill Milan LLC, and are protected by trademark laws of the United States and other countries. All other product and company names are trademarks or registered trademarks of their respective companies.
###