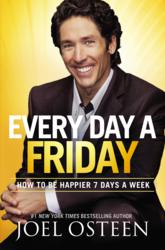 "Whatever challenges you may face, whatever circumstances are weighing you down, you can choose your response. How you live your life is totally up to you. It's not dependent on your circumstances. It's dependent on your choices." ~Joel Osteen
Nashville, TN (PRWEB) October 03, 2011
FaithWords, an imprint of Hachette Book Group, is proud to announce that Joel Osteen's new book, Every Day A Friday, hit #1 on the New York Times Advice, How-To, and Miscellaneous Hardcover bestseller list for the week of October 2.
Revealing one of the core messages of his ministry, New York Times bestselling author Joel Osteen empowers readers to have abundant joy in his new book Every Day A Friday: How to Be Happier 7 Days a Week (FaithWords/Hachette Book Group, September 13, 2011, Hardcover, $24.99). Combining personal experiences with Scriptural insights and principles for happiness, Osteen gives readers the tools to change their lives from the inside out. "I challenge you to let every day be a Friday," writes Osteen. "Give yourself permission to be happy every day. Not just on the weekends. Not just when you have a special event. Not just when you're on vacation. If you have the right mind-set, you can be just as happy on Monday as you are on Friday."
Part of the advice Osteen offers readers in his new book involves knowing what to ignore. Choosing the right battles, avoiding the urge to be right and instead focusing on what is right are all ingredients in enjoying every day to the fullest says Osteen. "If a battle doesn't stand between you and your God-given destiny, simply ignore it," Osteen writes. "The battles that do matter will come. Save your strength and energy for what's really important."
Even when things are not going well, Osteen shares that embracing every day as a Friday means having faith that God is in control—a needed message especially for today's times. "Psalm 2:4 says that God sits in the heavens and laughs. Can you envision that?" Osteen asks readers in his new book. "Right now God is on the throne. He's not mad. He's not worried about the economy. He's not upset with you and me. God is on the throne, full of joy."
God's joy is precisely what Osteen wants for others. In Every Day A Friday, Osteen teaches readers how to have true happiness through principles such as Don't Give Away Your Power, Be A Rose Among Thorns, Enjoy the Journey, and Know What to Ignore. Despite economic setbacks, health issues, bad relationships, or any one of a thousand problems affecting people today, Osteen believes readers can rise above.
"[W]ith God's help, we can choose to respond to life's inevitable set- backs and hard times with a positive attitude," asserts Osteen. "You have the power to focus on solutions, to surround yourself with supportive people, to rise above criticism and discouragement, and to put your faith in God and trust His plan for your life. Be happy with who God created you to be and enjoy each day you are given as His gift."
Book Details:
Every Day A Friday: How to Be Happier 7 Days A Week
Joel Osteen
September 13, 2011
ISBN: 978-0892969913
Hardcover, 6" x9", 304 pp
$24.99
###