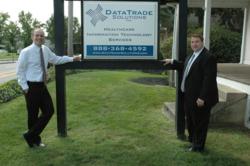 "I am very pleased at the progress that DataTrade has made," said Jim Rowland, co-founder of DataTrade. "The new office is just another example of that. Not only does it increase efficiency, it has also allowed our corporate culture to flourish."
Collegeville, PA (PRWEB) October 03, 2011
DataTrade Solutions, a leading provider of Electronic Health Record (EHR) solutions, has moved to their new headquarters in Collegeville, PA. Located in the Collegeville Professional Center, the company's office space is optimally situated among multiple medical practices in the complex.
Moving to the new office will allow DataTrade employees to more efficiently collaborate on projects and provide better overall support to clients. Featuring all the amenities the DataTrade team requires to meet the needs of their current clients, the Collegeville location is also primed for future growth and expansion.
About DataTrade Solutions, Inc
DataTrade Solutions is a premier provider of Electronic Health Record (EHR) solutions to a variety of medical practices. Currently supporting over 400 physicians, the company provides full life-cycle EHR services – from initial needs assessment, to solution customization, implementation, and support.
DataTrade Solutions is headquartered in Collegeville, Pennsylvania, just outside of Philadelphia in the heart of the northeast's medical and biotechnology corridor. For more information, visit http://www.datatradesolutions.com.
###