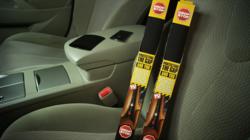 We are excited to get the message out about Drop Stop, and hope that the New Year will see even more cars on the road equipped with this vehicle safety device.
Los Angeles, CA (PRWEB) October 04, 2011
Driving distracted is a serious danger on the road; according to the Department of Motor Vehicles, over 500,000 injuries from accidents and 5,000 people die each year as a result of distracted driving. In fact, studies show that distracted driving is equivalent to driving with a blood alcohol level high enough to get a DUI. With holiday shoppers rushing to the stores to be the first to snap up the best gifts and take advantage of holiday sales, it is more important than ever that drivers are keeping their eyes safely on the road. Jeffrey Simon and Marc Newburger, inventors of Drop Stop, are proud to announce the launch of their new DRTV commercial, just in time for the holiday season. Their new infomercial helps to spread awareness and educate consumers about the dangers of distracted driving, while offering a convenient and effective solution for this problem. And with back to school, and a host of new and current teen drivers, anything that can eliminate distraction from their automobiles is a must.
Drop Stop is a flexible and portable device that secures the gap between the seat of a car and the center console, to prevent loose items from dropping into it and tempting the driver to take their eyes off the road while they search for the fallen items. Drop Stop allows drivers to keep their eyes safely on the road, eliminating distraction and potential danger, as well as saving drivers valuable time, money, and aggravation. The new commercial stresses the importance of safe driving and provides Drop Stop as a solution to taking your eyes off the road to search for fallen belongings. Drop Stop is a perfect automotive gift for the holidays to keep your loved ones safe because what better gift could you give, than the gift of safety?
"The timing couldn't be better for our new commercial to launch," said Simon. "We are excited to get the message out about Drop Stop, and hope that the New Year will see even more cars on the road equipped with this vehicle safety device."
About Drop Stop:
Co-founders Marc Newburger and Jeffrey Simon were inspired to create Drop Stop after Marc narrowly avoided a fatal accident when trying to retrieve his cell phone that had slipped down into the gap. Taking his eyes off the road for just a fraction of a second to reach down, Marc jumped a curb, nearly hit a pedestrian, and came within inches of crashing into a pole. This near accident caused him to ponder why nothing was invented to stop things from falling into the annoying and dangerous gap that so many people drop things in. He decided to team up with friend and business partner Jeffrey Simon and together they created Drop Stop; a one size fits all device designed to block everything from toothpicks, makeup, pocket change and cell phones from falling into the dreaded gap.
Drop Stop is easily self-installed in seconds, by placing the accessory between the seat and center console and aligning Drop Stop's built in slot over and around the seatbelt catch. This simple, yet ingenious design anchors the device to the seat, and allows Drop Stop to maintain a tight seal and slide effortlessly when the seat is adjusted back and forth. Made of a hypoallergenic, polyester fiberfill interior and a high-grade, durable, liquid and stain resistant neoprene (wetsuit material) casing, Drop Stop is flexible, flame resistant and cleans easily with a damp cloth.
For more information, to view Simon and Newburger's new commercial, and to see testimonials and media placements, please visit http://www.BuyDropStop.com/.
###