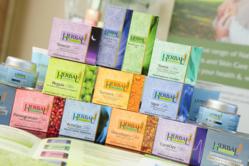 All Herbal Destination products are designed around "Ayurveda" or "Knowledge of Life". 5,000 years Ayurvedic wisdom now
lies at your finger tips. Become your own health advocate today!
Huntington Station, NY (PRWEB) October 05, 2011
Herbal Destination, (http://www.Herbaldestination.com) a NY based manufacturer and marketer of Ayurvedic Herbal Products is proud to announce the availability of their full line of products through Alice.com, (http://www.alice.com) a retail platform that enables leading manufacturers to sell direct to their end customers with free shipping and a host of other benefits.
Herbal Destination's line of Ayurvedic supplements, pain relief and skin care products are totally unique and are unlike other product lines in the market. By offering "condition specific" products with century old proven formulas, Herbal Destination has succeeded in addressing the health concerns of many consumers in the marketplace.
"We really spent the time to understand the needs of our consumers before the launch," says Shaker Nelanuthala (Director of Sales). "Our nine supplements, pain relief oil and four skin care products are aimed at the most prevalent health concerns consumer's experience. From our top selling Muscle and Joint Oil (100% Natural Topical Pain relief drug), to our world class Turmeric Hrx (to help reduce inflammation and more); and to our Saffron & Cucumber based Under Eye cream, our products are among the highest quality in the market today".
"The feedback and testimonials on our products have been overwhelmingly positive" according to Julie Solomon (Director of Marketing), "and we are excited about the partnership with Alice.com and the ability to reach more consumers who will benefit from our products."
About Herbal Destination
Started in 2009, Herbal Destination manufactures a unique line of herbal natural supplements, skincare, and Pain relief products which are distributed nationally. All products are "Condition Specific" and include: Cholesterol support, Blood Sugar Support, Arthritis support, Stress relief, Sleep, & Men's libido. The skincare products are designed using fruits, nuts and herbs, for Under Eye care, Wrinkle help. The oil is designed for muscle and joint pain. For more information on the product line please visit http://www.Herbaldestination.com. Herbal Destination is a 100% women and a minority owned business.
About Alice.com
Alice.com is an e-commerce platform and online marketplace for household essentials. As a leading provider of online retail and interactive marketing services for the Consumer Packaged Goods (CPG) industry, Alice.com offers manufacturers a direct to consumer platform that provides shoppers with competitive pricing, free delivery, instant coupons, and simple automation and management of household purchases. And, with its free iPhone app, all of this is available on-the-go. Alice.com is privately held and headquartered in Middleton, Wisconsin.
###