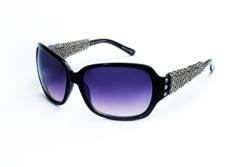 "Working with Snooki to bring her eyewear designs from the drawing board to the marketplace has been an incredible experience. We believe that her vision for sunglasses and related accessories will bring a breath of fresh air to the marketplace."
Metuchen, New Jersey (PRWEB) October 03, 2011
NYS Collection has announced it has signed an exclusive licensing agreement with Nicole "Snooki" Polizzi to design, manufacture and distribute her signature sunglass and sunglass accessory line. The "Snooki by Nicole Polizzi" line features timeless-yet-trendy styles that will appeal to consumers from the Jersey Shore to the California coast and everywhere in between.
Since the premiere of MTV's Jersey Shore in December 2009, Nicole "Snooki" Polizzi's style and attitude have made her a pop-culture phenomenon. With the fourth season of the hit show Jersey Shore currently garnering record ratings, a fifth season already in production and her own spinoff series slated for 2012, Snooki looks forward to bringing her unique sense of fashion to the world of designer eyewear.
"It's always been a dream to have my own sunglass line and I'm so excited to be able to finally offer it to my fans! For as long as I can remember, I've loved sunglasses - even creating my own styles at home, a different style for every look and mood," says Nicole "Snooki" Polizzi.
"NYS Collection prides itself on having a finger on the pulse of the marketplace" says Sal Babbino co-owner of NYS Collection. "Working with Snooki to bring her eyewear designs from the drawing board to the marketplace has been an incredible experience. We believe that her vision for sunglasses and related accessories will bring a breath of fresh air to the marketplace."
The "Snooki by Nicole Polizzi" line is now available at select NYS Collection kiosks in regional shopping malls as well as online at http://www.snookibynicolepolizzi.com or http://www.nyscollection.com. More information about the line can be found on Twitter by following @snookishades.
ABOUT NYS COLLECTION:
NYS Collection was founded in 1996 by Sal Babbino and Marc Behar. They are a leader in the international eyewear and eyewear accessory market with a wholesale division selling millions of sunglasses annually. NYS Collection stands behind its products with a 100% replacement guarantee as administered by the in-house claims division located within their new 50,000 square foot state of the art corporate headquarters in Metuchen, New Jersey. http://www.nyscollection.com @nyscollection on Facebook and Twitter.
###