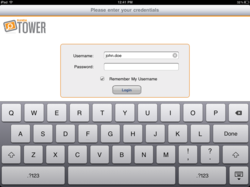 Nashville, TN (PRWEB) October 05, 2011
RANDA Solutions announces an agreement with the National Institute for Excellence in Teaching to make the TEAM rubric available in a scripting application on RANDA's TOWER System and TOWER Mobile. This agreement stands to help manage the increasing requirements for Tennessee's schools as a consequence of the state's Race to the Top funding.
"We are thrilled to make TOWER Mobile useful to administrators-- particularly in Tennessee because TOWER was essentially built around pilot programs initiated throughout Tennessee," says Adam Engle, RANDA's COO.
This year, Tennessee selected and is implementing a classroom observation rubric as part of its new statewide teacher evaluation system (http://www.niet.org/niet-newsroom/niet-press-releases/national-institute-for-excellence-in-teaching-launches-best-practices-center/). RANDA's TOWER Mobile brings the rubric to evaluators' iPads, whether or not the site of observation has wireless Internet coverage—synchronizing with the TOWER System.
RANDA CEO, Marty Reed, further commented that "Our goal was to provide educators with tools to make the evaluation system easier to use while preserving the integrity of TEAM as envisioned by the Department of Education. Since the TOWER solution is flexible, our designers were also able to make it easy to use on mobile devices."
The TOWER System, embraced by many school districts both nationally and internationally, holds a number of innovative features and patent-pending technology. TOWER is primarily noted for several simple benefits to educators:

TOWER's paperless observations save time and resulting data is immediately usable.
Easily manageable observation scheduling and progress monitoring.
The system and app is simple to learn and operate.
RANDA's Mobile iPad and Android apps sync to TOWER System – observations can be performed without Wi-Fi coverage.
Clients provide their own rubrics and walkthrough forms
Additionally, while TOWER education systems can bring their own rubrics to TOWER, it was specifically designed to be customized beyond mere rubrics to adapt to the business rules of the client. "We believe it is important to make our innovations as simple as possible, so they get out of the way. TOWER automates so much of the process, that administrators save countless management hours and focus on observations themselves."
"The TOWER System continues to remain 'rubric-agnostic," Engle adds. "Our clients determine the rubrics and reports they need. Agreements like these simply make it easier for our clients to use third-party content."
Information on RANDA's TOWER System and TOWER Mobile can be obtained by calling 877.314.1412. A brief video on the Benefits of TOWER is available on YouTube: http://www.youtube.com/watch?v=uzIkQtHPX6s
RANDA Solutions is an INC. 500 software firm based in Nashville, TN serving the education sector. RANDA's tools for administrators and teachers aggregate and manage many types of education intelligence including standardized testing results, formative assessments, teacher evaluations and demographics. Historical and live data reporting, along with additional customized content, is delivered via RANDA's secure web portals and integrates seamlessly with RANDA's cross-platform mobile applications for iPads and Android devices. Information on RANDA can be found at http://www.randasolutions.com.
###