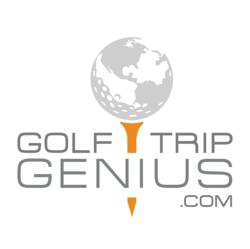 Now golfers can see tee sheets and scores in real time, upload photos and even see which restaurant they're going to for dinner.
Wayne, PA (PRWEB) October 05, 2011
GolfTripGenius.com, the web-based service that makes golf trips more fun and better organized, announced a mobile app for smartphones that puts an electronic leaderboard in the palm of golfers' hands.
Golfers using the GolftripGenius.com service now can enter scores while they're on the course or after a round and view scores of other players in their golf travel group in real time. The latest way to access GolftripGenius.com also allows golfers to see and change pairings, access trip logistics and upload and view photos. See a video demonstration.
The GolfTripGenius.com mobile app is available for GolfTripGenius subscribers using Apple iPhones and smartphones with the Android mobile operating system. It is available in the Apple iTunes store and in the Android Market.
"Everyone on a golf trip these days seems to carry a smartphone, and a lot of golfers who use our service have been asking for mobile access," said GolfTripGenius CEO Mike Zisman. "Now they can see tee sheets and scores in real-time, upload photos and even see which restaurant they're going to for dinner."
GolfTripGenius.com applies sophisticated yet easy-to-use software to help golfers plan and manage golf trips and then bring their memories home. The service helps golf travelers set up pairings, manage tournaments, create trip books, organize photos, track expenses and simplify trip logistics.
Since its release in 2010, thousands of golfers have used GolfTripGenius.com to organize and manage golf trips throughout the U.S. and to numerous international destinations. The service offers a free Test Drive that allows golfers to explore the site's features while planning a hypothetical trip.
About GolfTripGenius.com:
GolfTripGenius.com is an innovative, web-based golf trip toolkit for group golf trip leaders, resort and golf destination managers and PGA of America club professionals. Powering these solutions is the first-time use of operations research programming and advanced mathematical algorithms for arranging optimized golf pairings and tournament set-ups. GolfTripGenius.com offers a Trip Book and photo album feature for memorializing golf trips and a Trip Accountant to manage group expenses easily. The low cost GolfTripGenius.com online editions provide benefits that greatly enhance any golf trip experience.
###