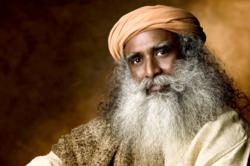 Atlanta, GA (PRWEB) October 05, 2011
Isha Foundations Inner Engineering Online program has now been awarded Continuing Medical Education credits. The course offers physicians an effective approach and tangible tools for stress and lifestyle management. Providing 10.5 continuing education credit hours for physicians,* physician assistants, nurses, nurse practitioners, marriage and family therapists** and clinical social workers,** Inner Engineering Online distills the essence of ancient yogic concepts into approachable principles appropriate to modern times. Taught online via seven 90-minute videos by yogi and visionary humanitarian Sadhguru Vasudev, the course provides not only intellectual understanding of the everyday contributors to stress, but also experiential methods to manage that stress and to increase mental calmness and clarity.
While physicians are increasingly called upon to treat physical conditions related to stress, they themselves are also experiencing significantly elevated levels of stress. Recent studies stated that two-thirds of physicians report feeling overworked and that 48% of physicians suffer advanced burnout.
Inner Engineering Online enhances physician understanding of the extensive physical, mental and emotional benefits provided by yoga and meditation and teaches physicians effective life management skills. Its methods, according to past participants, serve as an antidote to stress, promote mental focus, and increase levels of personal energy, productivity and efficiency.
"Best of all," states Dr. Kalpana Rajdev, President of Isha Foundation, Inc., "Inner Engineering Online presents simple but powerful processes to increase overall health and well-being. It truly empowers individuals to actively care for their health and to implement positive lifestyle changes." Over 5,000 physicians have taken the course to date.
Sadhguru Vasudev, creator of Inner Engineering and the author of more than 50 books including Amazon bestseller Midnights with the Mystic, has spoken before millions of people in leadership, corporate, government and education forums globally, such as the United Nations, the World Economic Forum, the World Bank, the World Peace Congress, Ford Motor Company, Chrysler Corporation, the House of Lords (U.K.) and Dartmouth University. He articles are published regularly in monthly publications including the Huffington Post, http://www.huffingtonpost.com/sadhguru. His vision and understanding have made him a highly sought after source of wisdom worldwide.
While intended to aid physicians with personal stress management, Inner Engineering Online also promotes physician understanding of complementary therapies available to patients. The effectiveness of many complementary and alternative medicines has been established in the scientific community, and, in fact, a recent study by the U.S. Department of Health and Human Services found that 38% of adults and 12% of children in the U.S. use complementary and alternative therapies.
Furthermore, Inner Engineering Online, with its wellness approach to living, reminds physicians of the vital importance of preventive health care. A recent report released by Trust for America's Health stated that strategic investment in effective disease prevention programs could produce tremendous savings to the U.S. at relatively low cost. "Indeed," states Dr. Ann Collins, a family practice physician in Indianapolis, Indiana, "Inner Engineering Online teaches its participants to commit deeply to their own health, to implement positive lifestyle changes and to seek perpetual personal contentment and wellbeing."
Participants in Inner Engineering Online have reported improvement in a wide variety of health conditions ranging from anxiety to heart disease to back pain. For example, 95% of survey respondents reported an improvement in symptoms related to depression, and 71% reported an improvement in symptoms related to allergies.

10.5 AMA PRA Category 1 (TM) Credits
** Available in California
Registration for Inner Engineering Online is available at http://www.innerengineering.com/CME. Upon course completion, a link will be provided to obtain CME credit. Additionally, participants will be eligible to register for an in-person program to further the benefits of Inner Engineering Online.
For additional information about this topic or to schedule an interview with Dr. Kalpana Rajdev, please contact Leslie Crespi by phone 248-202-6237 or by email centralpromotionsusa(at)ishafoundation(dot)org.
Additional information is available at http://www.innerengineering.com.
Barg Jeffrey. "Turning physician stress into physician empowerment". Physiciansnews.com. N.p., Sep. 2006. Web. 15 Dec. 2010.
Barnes PM, Bloom B, Nahin R. CDC National Health Statistics Report #12. Complementary and Alternative Medicine Use Among Adults and Children: United States, 2007. December 10, 2008.
Levi Jeffrey, Segal Laura, Juliano Chrissie. "Investments in Disease Prevention Yield Significant Savings, Stronger Communities". Healthyamericans.org. Trust for America's Health, 17Jul. 2009. Web. 15 Dec. 2010.
Isha Foundation. "Inner Engineering Online". Innerengineering.com/dnm2/. n.d. Web. 10 May 2011.
# # #