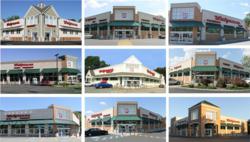 Northbrook, IL (PRWEB) October 04, 2011
The Boulder Group, a national single tenant net lease investment brokerage firm, has been selected as the exclusive advisor for the sale of a Walgreens portfolio consisting of nine properties located on the east coast. The properties are located in Connecticut, Massachusetts, New Hampshire and New Jersey.
The investment sales team will be led by Randy Blankstein and Jimmy Goodman of The Boulder Group who are marketing the portfolio on behalf of a private investment company. The portfolio is listed for sale with an asking price of $70 million. The properties are all leased to Walgreens on a long term basis and will only be sold as a portfolio.
The portfolio includes the following Walgreen's properties:
1. 980 Farmington Avenue in Berlin, CT (Hartford MSA)
2. 1036 West Main Street in Branford, CT
3. 880 North Montello Street in Brockton, MA (Boston MSA)
4. 1 Glenwood Avenue in Dover, NH
5. 17 Crystal Avenue in Derry, NH
6. 897 Main Street in Melrose, MA (Boston MSA)
7. 20 West Kings Highway in Mount Ephraim, NJ (Philadelphia MSA)
8. 1131 US Highway 46 in Ledgewood, NJ (New York MSA)
9. 500 Egg Harbor Road in Sewell, NJ (Philadelphia MSA)
"This portfolio represents a rare opportunity for an investor to acquire a large portfolio of long term triple net leased Walgreens properties," said Randy Blankstein, President of The Boulder Group. Jimmy Goodman, Partner of The Boulder Group, added, "Walgreens properties with over 20 year lease terms are one of the most sought after assets in the single tenant net lease market, and we anticipate strong demand for this portfolio."
About The Boulder Group
The Boulder Group is a boutique investment real estate service firm specializing in single tenant net lease properties. The firm provides a full range of brokerage, advisory, and financing services nationwide to a substantial and diversified client base, which includes high net worth individuals, developers, REITs, partnerships and institutional investment funds. Founded in 1997, the firm has arranged the acquisition and disposition of more than $1.2 billion of net lease real estate transactions through several real estate cycles. More information on the firm can be found at http://www.bouldergroup.com
###