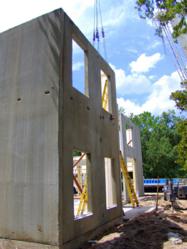 New Holland, PA (PRWEB) October 05, 2011
Superior Walls®, a leading manufacturer of energy-efficient precast foundation systems, now offers precast concrete wall panels specifically designed for use in above grade applications. The AG™ Wall Systems allow builders to use the panels in stacked applications to create multiple stories of construction.
AG Wall Systems have already been used in numerous projects, including the creation of a high school, a yoga center, shopping centers and a wide variety of homes. Each Superior Walls panel is custom made to the specifications of an individual project, including built-in openings for windows and doors. Pre-engineered access for wiring or small plumbing elements along with smart stud facing for easy drywall installation are included and help speed up the construction process.
"Superior Walls precast concrete wall panels are a fast, efficient way to construct a home or commercial project," says Jim Costello, president of Superior Walls. "Our AG Wall Systems provide an energy-efficient way to construct an entire building from the ground up."
Superior Walls introduced AG Wall Systems to bring the strength and energy efficiency typically found in Superior Walls foundation systems to above grade building applications. AG wall systems are pre-engineered at Superior Walls facilities and custom manufactured for the specific needs of a project. The walls are delivered to the job site and installed within hours of arrival.
"A conventional wall structure with block and wood framing can take weeks to create," says Costello. "When using AG Wall Systems, you can achieve that same framing in just hours on the job site with many energy-efficiency benefits."
Asheville Yoga Center
When Elm Construction & Design broke ground in late July of 2011 for the new state-of-the-art Asheville Yoga Center, they knew the clock was ticking. They won the construction bid based on speeding up the building cycle. To achieve this, they relied on the Superior Walls AG Systems application of Xi™ precast concrete panels.
"AG™ Wall Systems is a fast, efficient way to construct homes and commercial projects from the ground up," says Trey Greer, owner of Elm Construction & Design in Asheville. "For the Asheville Yoga Center, this is a great application because we can bury part of the wall below grade, construct sidewalks right up against the wall system and then create the entire building out of the precast wall panels. We're cutting almost a month off a typical construction schedule by using the Superior Walls® products."
The Xi wall panels used to construct the new Asheville Yoga Center have earned the Green Approved Product designation by the National Association of Home Builders Research Center. Manufactured by Superior Walls of North Carolina, the wall systems can earn up to 10 points on a project toward a National Green Building Certification.
Florida Custom Home
In Florida, where new construction projects must meet strict code standards, builder Dan Wigh relies on AG Wall Systems for many of his projects.
"Our fundamental belief is that families should be able to have an environmentally-sensitive, budget-friendly home at a fair price," says Wigh, president of Wytek Construction LLC in Valrico, Florida. "In many cases that home starts with the above grade application of concrete AG wall systems because they are innovative, watertight and extremely energy efficient.
"In 2007 we investigated 18 different types of wall systems and kept coming back to the AG wall system as the best overall solution for our regional needs in central Florida. Since that time we've used Superior Walls products in a dozen projects, and we anticipate another half dozen going up in 2011."
The insulated concrete AG Walls are produced at Superior Walls by Weaver Precast of Florida in a factory-controlled setting in Orlando. The walls are used in above-ground applications and are watertight, termite-resistant and help reduce noise infiltration into the home.
The top-of-the-line Xi wall panels feature steel reinforced concrete and 2-1/2-inches of DOW® Styrofoam™ insulation to create a permanent barrier against sidewall water penetration. The panels are custom designed and constructed in a factory-controlled setting. Unique features of the Xi wall panels include:

5,000+ PSI concrete
Horizontal steel rebar inside top and bottom beams
Vertical steel rebar inside each stud
Steel-reinforced top bond beams, concrete studs and footer beams
Access holes for ease in wiring and plumbing
Galvanized steel stud facing ready for drywall finishing
Insulated corners, studs and bond beams
Now celebrating its 30th anniversary year, Superior Walls has more information available at http://www.superiorwalls.com. Specific AG Wall Systems information and photography of successfully-completed projects are available at http://www.superiorwalls.com/tech_archive/?page_id=193.
# # #