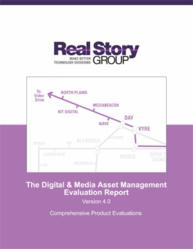 Boston, Washington DC, London (PRWEB) October 10, 2011
The Real Story Group has just released a major update of its Digital & Media Asset Management Report. The new Version 4.0 Report includes new, in-depth coverage of Adobe Scene7 and Dutchsoftware Elvis DAM. Adobe Scene7 is a SaaS-based model for web cataloging and print production. Both platforms continue to evolve as they compete to improve marketing asset production and distribution.
Also reviewed is Avid Interplay Media Asset Management & Production Suite's move to HTML5, as the full suite updates to a more integrated user interface. Avid's move into the DAM / MAM world comes as a result of its acquisition of German media asset management vendor, Blue Order. Fresh updates from North Plains, Widen, and Extensis are featured and reviewed in depth. Version 4.0 also reviews the trends of 2011 and anticipates the future of digital media asset management in 2012.
The new report reviews Content Delivery Networks (CDNs) and Online Video Platforms (OVPs) for online video distribution scenarios. There are expanded evaluation charts, which include more granular ratings on vendors' ability to perform image transformations, video transcoding, asset management via tablet devices, and technical capabilities such as extensibility, integration and application development.
The Real Story Group covers the Microsoft SharePoint ecosystem as an entire technology stream, and the new Digital & Media Asset Management Report gives an updated look at the limits of SharePoint in DAM scenarios, and what add-on technologies are appropriate to make media management more viable with SharePoint. In the report, there are more in-depth use case scenario analyses for time-based media, which address why the lines between production asset management and media asset management are blurring.
Contact sales(at)realstorygroup(dot)com or call +1 617 340 6464 to acquire the research via purchase order, or to learn more about ongoing subscription programs.
###