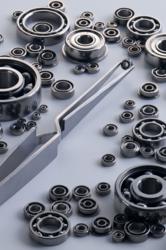 You will be able to find all of NMB's miniature bearings at Motion Industries.
Chatsworth, CA (PRWEB) October 04, 2011
NMB Technologies Corporation, a Minebea Group Company, and Motion Industries, a Genuine Parts Company, have signed a distribution partnership agreement that recognizes Motion Industries as an authorized distributor of NMB's miniature ball bearings.
NMB's miniature ball bearings range in size from .1180 to 1.000 inch outside diameter. NMB bearings are manufactured in martensitic stainless steel or chrome steel material with shields and seals enclosures, a variety of ABEC grades, and a wide lubrication selection specially designed to fit today's applications.
"Motion Industries will play a vital role in NMB's expansion of our miniature ball bearing distribution program. We are excited about serving more customers through Motion's active knowledge in our markets and their powerful reach online" says Pat Bernie, ball bearing distribution manager for NMB Technologies Corporation.
A wide selection of NMB's miniature ball bearings in standard sizes is available for sale directly from Motion Industries, or by contacting any of their office locations throughout the United States and Canada.
About NMB Technologies Corporation – NMB Technologies Corporation, a Minebea Group Company, is the world's largest manufacturer of miniature precision ball bearings and a volume leader in the design and manufacturing of precision electro-mechanical components, including cooling fans and blowers, precision small motors and mechanical bearing assemblies. NMB products can be found in the personal computing, networking, telecommunications, home entertainment, home electronics, and automotive, medical and industrial markets. For more information on NMB Technologies Corporation visit: http://www.nmbtc.com or contact them at 818-341-3355.
About Motion Industries – Motion Industries is a leading industrial parts distributor of bearings, mechanical power transmission, electrical and industrial automation, hydraulic and industrial hose, hydraulic and pneumatic components, industrial products, and material handling. Motion Industries has over 500 operations including ten distribution centers throughout North American and serves more than 140,000 customers from the food and beverage, pulp and paper, iron and steel, chemical, mining and aggregate, petrochemical, automotive, wood and lumber, and pharmaceutical industries. Motion Industries, Inc. is a wholly owned subsidiary of Genuine Parts company. For more information on Motion Industries please visit: http://www.motionindustries.com, or contact them directly at 800-526-9328.
###