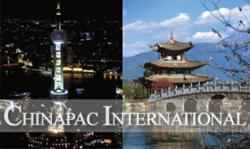 Vancouver, BC (PRWEB) October 05, 2011
Chinapac International is offering couples and lovers the perfect Valentine getaway with a special 12 Day Ancient and Modern China tour.
Spend 12 days and 10 nights with that special someone visiting China's fascinating wonders including the romantic cities of Hangzhou and Suzhou. Filled with enchanting sights and activities, this well-rounded tour is an alluring trip to both old and present China.
"A blissful Valentine retreat," according to Chinapac founder Jenny Soares, this special China tour is "a great and extraordinary way to enjoy Valentines with your beloved partner."
Xian, Hangzhou and Suzhou, cities of significance to the natural and historical facets of the country, are where guests will be escorted around to get a feel of the country's ancient and romantic atmosphere. A serene boat cruise on Grand Canal in Suzhou and the tranquil waters of West Lake in Hangzhou are some of the colourful highlights of this China special.
As for modernity, the program's start and end point in the bustling metropolis of Shanghai and Beijing allow for a taste of urban living in China, and ultimately encompassing the country's most historic towns and thriving cities in this twelve day oriental journey.
Other features of this China tour include visits to the country's renowned heritage sites like the Great Wall in Badaling, the Terra Cotta Warriors site and Yu Garden.
The 12 Day Ancient and Modern China Valentine Special departs Vancouver February 9 from only $1649 per person. Land Package $1299. For added bonus, bookings made by October 31 will receive free access to YVR Plaza Lounge wherein passengers can relax as they wait to board their plane and enjoy complimentary tv, wine and beverages.
For more information, please visit http://www.chinapac.com or call 1-800-661-8182.
Chinapac International specializes in travel service to China and the Orient and is proud to celebrate 26 successful years in the travel industry as the premier travel package tour operator to the People's Republic of China and South East Asia.
###