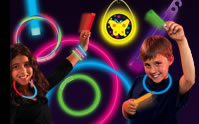 ¿Habla Español?
Para un representante en español comunicarse:
Tel: 1-413-259-4117
West Springfield, MA (PRWEB) October 05, 2011
Offering hundreds of choices in both traditional and new glow and party lines, Omniglow, LLC's new on-line catalog sets itself apart from its competitors by offering the highest quality, longest lasting, and brightest glow available at the web's lowest prices. With glow products made in North America [not China!], and experience at the fore-front of chemiluminescent technology, the company continues to innovate and bring new and unique products to market.
The new catalog is posted at the company's website, http://www.omniglow.com and includes a complete range of glow bracelets, necklaces, glow sticks, and party supplies for all events, such as Halloween, New Year's, and birthdays. In addition to its Economy and Premium lines, Omniglow, LLC is also offering an interesting list of specialty items such as bi-color, tri-color, extra-large and miniature items. The Omniparty listings include candles, balloons, noisemakers, confetti shooters and many other essential party items.
With its North American production facilities, in addition to its ability to offer the web's lowest prices, Omniglow, LLC's policy of free ground shipping from its Texas warehouse on orders of $29.95 or more is the lowest of any glow site, and will save its customers even more money.
Omniglow, LLC also offers the Outdoor Glow® line for sport and fishing, the Bovine Beacon® standing heat indicator at http://www.bovinebeacon.com, and the Omnimedtech Division Stylite® stylet for endotrachael intubation at http://www.omnimedtech.com.
# # #