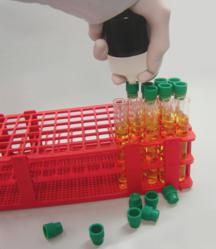 Reduce the hand stress and fatigue that can be caused by capping multiple test tubes
Pequannock, NJ (PRWEB) October 06, 2011
Repetitive capping of test tubes can cause soreness and fatigue of the hands and fingers. With the Scienceware® Test Tube Capper from Bel-Art Products, researchers can use their entire arm for leverage, reducing finger soreness and hand stress.
A vinyl covered handhold fits comfortably in the palm of the hand while a polypropylene tip presses down on the cap to securely position it within the test tube.
"Users can quickly cap rows of test tubes when lined up in a rack, or single tubes can be capped while held in the opposite hand," according to Lenny Hernandez, Product Manager for Bel-Art Products. "This unique tool makes life in the lab more pleasant by making a repetitive task easier to accomplish."
The Scienceware® Test Tube Capper is designed for use with recessed center test tube caps. Capping can be performed on glass or plastic test tubes.
Suggested list price for the Scienceware® Test Tube Capper, catalog no. F18799-0000, is $20.00. It measures 4.4 diam. x 8.9cmH (1¾ x 3 ½").
To see the Scienceware® Test Tube Capper in action, visit youtube.com/scienceware.
For more information on the Scienceware® Test Tube Capper, or the complete line of laboratory offerings from Bel-Art Products, call 1-800-4BELART, email info(at)belart(dot)com or visit http://www.belart.com. To request a free copy of the Bel-Art Products 2011 Catalog, click here.
Bel-Art Products simplifies tasks with innovative product solutions for science, industry and healthcare. Over 3500 items from safety wash bottles to fume hoods are manufactured and marketed under well-known brand names including Scienceware® laboratory products, Spinbar® magnetic stirring bars, Magic Touch™ icewares, Sterileware® sampling tools, Secador® desiccator cabinets, KLETT® colorimeters, and Poxygrid® racks. Established in 1946, Bel-Art Products is a United States based manufacturer headquartered in Pequannock, NJ.
###