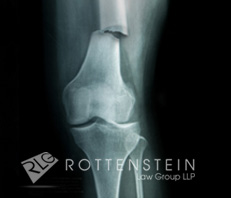 (PRWEB) October 03, 2011
On October 3, Merck issued a press release announcing that "a federal court jury in New York found in its favor in the Secrest v. Merck case, rejecting the claim of a Florida woman who blamed her dental and jaw-related problems on her FOSAMAX use." Secrest v. Merck (case no. 1:06-cv-06292)—a so-called bellwether lawsuit—is the fifth lawsuit involving claims that Fosamax caused a plaintiff to suffer osteonecrosis of the jaw ("ONJ") to go to trial. Merck, the developer and manufacturer of the brand-name drug, is currently defending thousands of Fosamax cases, including cases alleging that the drug caused users to suffer femur fractures, as well as ONJ cases — all according to Merck's statement.
Merck's statement continued, "Today's verdict marks the fourth time a jury has found in Merck's favor on a plaintiff's product liability claim in the litigation regarding FOSAMAX. The plaintiff in this case alleged she used FOSAMAX and suffered various jaw problems and complications following multiple tooth extractions and failed dental implants." As of June 30, 2011, according to Merck itself, approximately 1,650 cases, which include approximately 2,050 plaintiff groups, had been filed and were pending against Merck in either federal or state court.
The Rottenstein Law Group urges anyone whose friend or relative has been prescribed Fosamax or another osteoporosis drug to reach out to that person and recommend that he or she consult a physician immediately and then speak to a qualified personal injury lawyer. The Rottenstein Law Group maintains a Fosamax Lawsuit Information Center at http://www.fosamaxfemurfracturelawsuit.com. The site has features that allow for easy sharing, including links for automatic posting on Facebook and Twitter, specifically to enable visitors to spread the word about the dangers of Fosamax.
About THE ROTTENSTEIN LAW GROUP
The Rottenstein Law Group is a New York-based law firm that represents clients in mass tort actions. The firm was founded by Rochelle Rottenstein, who has more than two decades of experience as a lawyer, to represent clients in consumer product injury, mass tort, and class action lawsuits in a compassionate manner. http://www.rotlaw.com
Contact:
The Rottenstein Law Group, LLP
Rochelle Rottenstein, Esq.
1259 Veeder Drive
Hewlett NY 11557
(212) 933-9500 (office phone)
(212) 933-9980 (facsimile)
rochelle(at)rotlaw(dot)com
http://www.rotlaw.com
# # #