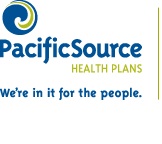 Bend, OR (PRWEB) October 03, 2011
PacificSource Health Plans announced today that individuals eligible for Medicare in Idaho and Oregon now have additional options when selecting Medicare Advantage Plans. PacificSource is now providing Medicare Advantage health plans in thirteen Idaho counties, including Ada, Blaine, Boise, Camas, Canyon, Cassia, Elmore, Gooding, Jerome, Lincoln, Minidoka, Owyhee and Twin Falls, as well as Lane County, Oregon.
For those eligible for Medicare, generally 65 and over, Medicare Advantage plans offer a variety of options at an affordable rate. In Idaho and Lane County, Oregon, plans will be offered as low as $0 per month. PacificSource's Medicare Advantage plans cover more than Medicare alone, including routine annual physicals, worldwide coverage for urgent and emergent care and routine eye exams. Some plans include medical coverage as well as Medicare Part D prescription drug coverage in one plan.
"As a not-for-profit community health plan, it is our goal to provide the best possible coverage to people of all ages and incomes," said Ken Provencher, CEO of PacificSource. "We have a 78 year history and are excited to continue to expand our services and plan options to match the needs of our community."
Annual enrollment for Medicare Advantage plans is October 15 – December 7, 2011. During this time, those age 65 and over that are enrolling for the first time or those looking to switch plans should research their options and make the selection that best meets their individual needs. For more information regarding PacificSource's Medicare Advantage Plans, visit an office location (Boise, Bend or Springfield) for one-on-one attention, call (888) 863-3637 or go to http://www.medicare.pacificsource.com.
About PacificSource Health Plans
PacificSource Health Plans is an independent, not-for-profit community health plan serving the Pacific Northwest. Founded in 1933, PacificSource is based in Eugene, Oregon, with local offices throughout Oregon and in Idaho and Montana. The PacificSource family of companies employs 650 people, serves more than 290,000 individuals, and has 6,200 employer clients throughout the Northwest. PacificSource Community Health Plans, Inc. is a subsidiary of PacificSource Health Plans and markets Medicare Advantage products under the name PacificSource Medicare.
###