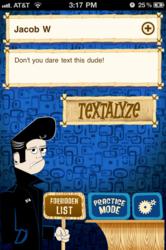 At only $0.99, it's a bargain considering the humiliation it will spare you.
(PRWEB) October 05, 2011
For the people out there who love Texting, and especially love doing it at the wrong time, there's finally an answer. The Textalyzer iPhone app uses a series of virtual sobriety tests to prevent people from sending text messages they might later regret.
The idea originator, Samantha Deeter, partnered with Appiction, an application development company, to create the Textalyzer iphone app. The visually stunning and easy to navigate app will only set you back $0.99, a bargain considering the humiliation the app can spare you.
The app itself allows users to create a list of people they shouldn't be texting when their judgment is impaired (exes, co-workers, discriminating family members and friends), and then runs the app user through a series of reaction-based games before they are allowed to send an outgoing text.
If the user is unable to successfully complete the games, their text is held for 12 hours, at which point they're asked if they still want to send the message. The user can even create customized warnings so they never forget why they want to avoid sending messages to a specific contact.
"This is to prevent people from doing the ultimate no-no," Deeter said. "I was briefly single and would run around from time to time with girlfriends after work and on weekends and would always tell people, 'I wish there was a Breathalyzer for phones.' That's when I got the idea."
This cool, fun, and clever app has seen great immediate success. Within a week of being released in the iTunes Store, Textalyzer hit the 'iTunes New & Noteworthy List' along with reaching #101 on the list of Top Paid Entertainment Apps.
About Appiction - Located in Austin, Texas, Appiction LLC boasts a mature and experienced creative and technology staff of over 80 employees and remains the premier Full-Service Mobile Application Development and Design Company in the USA. Their highly creative and enthusiastic team of professional iPhone developers and designers has over 50 years of combined experience in building games, social media apps, business tools, specialty utilities and more.
###