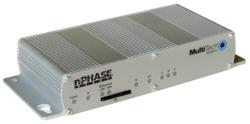 We are very pleased to be working with Multi-Tech as partners to remove barriers and accelerate adoption of M2M - Steve Pazol, president of nPhase
MINNEAPOLIS, MN (PRWEB) October 04, 2011
Multi-Tech Systems announced today that it has signed on to the nPhase Alliance Partner Program and has embedded nPhase specialized M2M software in their MultiConnect™ OCG (Open Communications Gateways). Multi-Tech will be able to simplify M2M application development and accelerate their speed to market for M2M devices deployed on the Verizon and Vodafone mobile broadband networks.
This joint solution combines a pre-certified, industry-leading hardware platform and nPhase specialized M2M software, creating a turnkey approach to quickly field products in the market with complete end-to-end solutions; these include custom M2M applications and robust diagnostic capabilities that will significantly reduce cost and complexity.
"Our commitment to an 'open' environment for enabling M2M was key in initiating this product offering with nPhase and Verizon Wireless. Multi-Tech's primary goal is to jump the hurdles for our customers so that their M2M strategy can succeed," said Matt Sharma, executive vice president, Multi-Tech Systems. "Working with nPhase to create this custom nPhase Ready device was a collaborative effort that shared this common goal."
The nPhase advanced M2M cloud platform allows companies to actively manage remote assets through nPhase Application Services, proprietary software that provides access to device status, signal strength and more without any additional custom programming.
"Implementing a robust end-to-end M2M solution is a complex endeavor," said Steve Pazol, president of nPhase. "Our objective in partnering with Multi-Tech with this embedded solution is to reduce or eliminate many of these complexities, so enterprise customers can reduce development expense and time and get to market faster. We are very pleased to be working with Multi-Tech as partners to remove barriers and accelerate adoption of M2M."
To learn more about the Multi-Tech MultiConnect OCG and how nPhase and Verizon are bringing value, please visit Multi-Tech booth #541 or nPhase booth #247 at the 2011 CTIA Enterprise & Applications show, October 11-13, at the San Diego Convention Center. Multi-Tech and nPhase executives will also be available for scheduled interviews. More information is also on the nPhase website: http://www.nphase.com/alliances-multi-tech.
About Multi-Tech Systems
Multi-Tech Systems offers the industry's most comprehensive M2M (machine-to-machine) communications products and services portfolio available today. As a leader in the industry for more than 40 years, Multi-Tech's reputation for reliability and innovative design is evident with 80+ patents, 20+ million devices being used by thousands of customers worldwide and certifications from more than 30 carriers and over 80 countries. Multi-Tech is certified by the WBENC as a Women's Business Enterprise and by C-TPAT (Customs–Trade Partnership Against Terrorism). Visit http://www.multitech.com. Follow Multi-Tech on Twitter: twitter.com/MultiTechSys.
About nPhase
nPhase, a 50/50 joint venture between Qualcomm (NASDAQ: QCOM) and Verizon, provides advanced Machine to Machine (M2M) cloud platform services to the world's leading wireless operators such as Verizon and Vodafone, and enterprise customers with the most demanding needs for data reliability, coverage, security and innovation in M2M. Industries served include consumer electronics, transportation/ construction, utilities, healthcare, retail, industrial, financial services and government. nPhase leverages the global leadership in advanced connectivity technologies provided by Qualcomm, the industry leading network and channel provided by Verizon Wireless, and ten years experience as an M2M pioneer, to lead in the advancement of M2M. nPhase headquarters are located at 6195 Lusk Boulevard, Suite 200, San Diego, CA, 92121. More information about nPhase can be found at http://www.nphase.com.
All trademarks are the property of their respective owners.
###