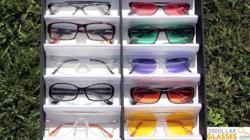 We've made it possible to decrease the risks of eye strain, eye damage or visual loss by wearing the hottest new looks in eyewear.
Ronkonkoma, NY (PRWEB) October 05, 2011
39DollarGlasses.com has introduced a line of photochromic lenses in green, blue, rose, yellow, and orange, called SMARTcolors™ that block 100% of UVA and UVB rays. This product has been developed from cutting-edge technology and is available exclusively from 39DollarGlasses.com.
Photochromic, or light-changing lenses, darken after exposure to sunlight. When removed from sunlight exposure, they will gradually return to their clear state, changing from deep-tinted back to light. They have typically been available in only gray or brown. But SMARTcolors have taken photochromic lenses to the next level with the addition of bright, vibrant colors. SMARTcolors are the only advanced photochromic lenses available in this full spectrum of hues, that change from a hint of tint (almost clear) to full sunglasses after only seconds of exposure to natural UV light outdoors.
Dr. Marc Weinstein, CEO of Value Eyecare Network and 39DollarGlasses.com is very excited about this new product. He states: "These days, people of all ages understand the necessity to take precautions to protect their skin to prevent sun-damage but don't understand that it is equally important to protect their eyesight. That's why I'm so pleased to be able to provide them with eyewear that incorporates SMARTcolors photochromic lens choices in a rainbow of colors. We've made it possible to decrease the risks of eye strain, eye damage or visual loss by wearing the hottest new looks in eyewear."
Photochromic technology offers maximum protection from eye damage and provides incredible performance not just outdoors - but indoors as well. They adjust to the specific lighting conditions for optimal contrast and visual comfort. Photochromic lenses are also extremely practical for anyone who works in an office with florescent lights helping to reduce squinting, fatigue and eye strain.
SMARTcolors deliver all-day visual protection and comfort with lens colors ideally-suited for popular outdoor activities: yellow for shooting, rose for golf, orange for fishing and other water activities. SMARTcolors are available as single vision, bifocals, and ultra light progressive no-lines exclusively at 39DollarGlasses.com. As an industry leader in selling prescription eyewear online since 2001, 39DollarGlasses.com stands behind everything they sell and offer SMARTcolors and all of their products with an exclusive worry-free guarantee.
About 39DollarGlasses.com: http://www.39DollarGlasses.com was developed by eye doctors to create an inexpensive method for people to acquire high-quality, finished prescription eyeglasses. It is completely doctor owned and operated with facilities in New York, producing essentially every kind of prescription eyewear, manufactured exclusively in the USA.
# # #