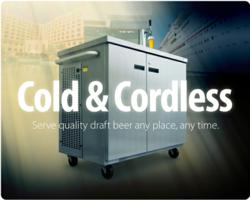 Go Cold & Cordless with the world's first Battery-Powered Kegerator, from Micro Matic.
Northridge, CA (PRWEB) October 05, 2011
No AC power, no worries…plug the Freedom Kegerator overnight into any 110 volt outlet and charge the deep cycle marine-type (12 volt) battery. It is that easy.
On battery power the Freedom Kegerator is designed to maintain keg storage temperatures at 35°-40° F and dispense draft beer at 38°F for up to 24 hours. This gives the user the freedom to dispense draft beer in any convenient location; indoors or outside.
The Freedom Kegerator is great for home parties, picnics, tailgating, or any commercial venue where draft beer is sold: stadiums, cruise ships, hotels, etc. Keg beer represents a green eco-friendly alternative to returning or recycling glass or can empties, just return one keg.
The Freedom cabinet is robust and built to last, the commercial grade brushed stainless steel exterior finish. This is a perfect surface to wrap signage and provide a multitude of product or venue branding possibilities. Walk around Freedom Kegerator for an uncluttered 360° view; the unit presents a clean, professional stage for draft beer. The serving side features two compartments. The main refrigerated compartment fits a full size half keg (15.5 gallons) or up to four one-sixth kegs (5.25 gallons). The left side storage compartment is perfect for organizing the CO2 gas cylinder and additional dispensing supplies.
The Micro Matic Freedom Kegerator is truly innovative. Freedom is capable of providing for the first time the opportunity to enjoy cold draft beer anywhere.
About Micro Matic USA, Inc.
Micro Matic is the world's leading manufacturer and supplier of keg valves and dispensing equipment in over 120 countries. Serving the U.S. market from regional warehouses and staffed with knowledgeable personnel. Micro Matic also operates the Dispense Institute where field-trained instructors conduct hands-on draft beer dispensing courses, as well as on-site workshops.
Micro Matic USA, Inc.
19791 Bahama Street
Northridge, CA 91324
###