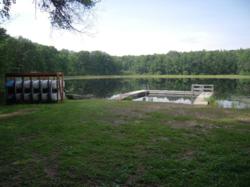 Green Bay, WI (PRWEB) October 05, 2011
Talk about a once in a lifetime opportunity! The former Girl Scout Camp Ishnala will hit the auction block this December during a multi-state auction event hosted by Micoley & Company. Located just 55 miles north of Green Bay, WI, at N5878 County Road P in Crivitz, WI. This wildlife sanctuary contains almost 250 acres of wooded land including trails, a large pond, mature timber, a troop house, new residential home and a large storage barn. With an ideal location on Memory Lake, this camp offers endless summer and winter activities. In summer Ishnala is the ideal location for hiking, canoeing and boating and winter offers the perfect setting for cross country skiing.
The spacious troop house offers a curved glass view of a large deck and pond with a floor to ceiling fireplace, two bunk areas, master bedroom, cafeteria, and activity area. The two other structures include a new 2 bedroom 2 bathroom home with attached garage and a large storage barn. All structures have access to well maintained trails that whine throughout the 250 acre property. Minimum bid (seller's reserve) for this unique property has been set at only $440,000, a generous price slash from its $800,000 list price.
The auction event will be held on December 10, 2011 where several other properties will be auctioned off. With all Micoley & Company auctions, interested bidders are encourage to submit offers prior to auction, as most properties sell before their scheduled auction date. Contact a listing agent today at 888-662-1020 or visit http://www.mrea.co.
Micoley & Company will also be hosting a bank ordered liquidation sale on November 12, 2011. This multi-state auction event includes commercial land and buildings, hunting and recreational land & cabins, residential lots, subdivisions and homes, waterfront property, office/retail space and even a boat. All auctions will take place on November 12, 2011 at TBD locations. Check your area for auction times and locations.
There are currently 60+ properties scheduled to hit the auction block in November. This bank ordered liquidation sale will feature some of the best deals on real estate in your area. All bank owned properties are great investment opportunities with minimum bids set well below their list prices. The auction event contains a wide array of properties from the Northwood's of Wisconsin to Michigan's Upper Peninsula, all the way down to Kansas. If you're in the market for your dream home, hunting cabin or commercial space to expand your growing business, we have what you're looking for.
Interested in bidding? All prospective bidders are encouraged to call to ensure your times for private tours. Just this month a residential home sold within 24 hours of being placed on the market with an accepted off well above the minimum bid.
Wisconsin based Micoley & Company Auctions has grown exponentially in the last few years, branching out into 30 states. Micoley has experienced growth in this economy due to their unique approach to real estate and marketing process with a 30+ year track record of successful operations. They offer a complete portfolio of services for their rapidly expanding client base. Visit http://www.mrea.co for a full list of auction properties or to learn more about their very unique approach to real estate. You can also call 888-662-1020.
SOURCE: Micoley & Company
###