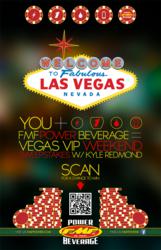 "Our goal is to simultaneously introduce new fans to FMF Power Beverage through the sport of EnduroCross while showing them how our all-natural formula helps athletes excel at the highest levels of competition," said Don Emler, Jr., FMF Power Beverage
Los Angeles, CA (PRWEB) October 05, 2011
FMF Power Beverage, the industry's first all-natural performance energy drink with specific hydration and recovery properties, is offering consumers a chance to win prizes including a grand prize consisting of an all-inclusive trip to Las Vegas to attend the GEICO AMA EnduroCross Championship Finals, as well as meet FMF Power Beverage Team Rider, Kyle Redmond.
The FMF Power Beverage "Vegas VIP Weekend" sweepstakes officially launches Oct. 3 and runs through Oct. 31, 2011. The promotion will be fostered simultaneously through the FMF Power Beverage and FMF Racing Facebook pages. In addition to the grand prize trip, which includes airfare, meals and accommodations for two, FMF Power Beverage will also provide the winners with $500 dollars spending cash while in Las Vegas. Moreover, the contest will award five runners-up with FMF Power Beverage prize packs.
"Motocross fans are some of the most die-hard sports fans on the planet, and this promotion is all about giving back to them," said Don Emler, Jr., FMF Power Beverage. "Our goal is to simultaneously introduce new fans to FMF Power Beverage through the extreme sport of EnduroCross while showing them how our all-natural formula helps athletes excel at the highest levels of competition. Luckily we have our FMF POWER rider Kyle Redmond in the hot seat in Vegas, and we're sure that he'll give our VIP winner the show of a lifetime in the process of taking home the checkered flag."
"I'm stoked to be a part of such a killer FMF Power Beverage sweepstakes," said Redmond. "It's going to be a really exciting race to finish up the year in Las Vegas, and I'm proud to represent two brands that are all about giving back to the Motocross community."
To enter the contest and learn more about FMF Power Beverage, load facebook.com/FMFPOWER.
About FMF Power Beverage
FMF Power Beverage is an all-natural, high-powered energy drink containing a proprietary PowerBlend™: an infusion of clean, healthy nutrients, vitamins and antioxidants for immediate energy and sustained performance. FMF POWER's benefits stem from its four pillars – Energy, Performance, Hydration and Recovery. FMF POWER is available in Citrus Lemonade and Fruit Punch flavors, both 'Tunnel pasteurized' to preserve efficacy and flavor. For more information, load facebook.com/FMFPOWER.
About FMF Racing
Owner and founder Don Emler started FMF Racing in 1973. Don's vision was to provide the top level US racing equipment at the grass roots level. FMF was formed in Don's garage and is now located in Rancho Dominguez in a 90,000 square foot, state-of-the-art manufacturing facility. FMF's goal is simple; design and manufacture the world's best performance exhaust 100% in the USA under one roof. Visit FMFRacing.com for more information.
###