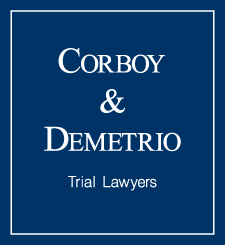 "This tragedy was caused when a professional security man failed to do his job properly."
Chicago, IL (PRWEB) October 03, 2011
The law firm of Corboy & Demetrio has secured a $2 million settlement on behalf of Jon O'Connor who was seriously injured while attending his 30th birthday party at the Chicago nightclub Slow Down, Life's Too Short ten years ago.
On July 27, 2001, a surprise birthday party was held for Jon at the nightclub. Late in the party, two attendees became rowdy in dancing Chippendale-like, wrestling and tearing off each other's shirts, a witness testified. Due to violations of bar behavioral rules, the manager told a bouncer/security man to eject the two partygoers, deposition testimony revealed. They had been previously warned that continued bad behavior would result in being tossed out. When told they had to now leave, the partygoers stated they would pack up and leave. The security man then left them to leave on their own. They did not, according to deposition transcripts.
As Jon was saying his goodbyes, the two attacked Jon, tried to push him under the outdoor shower for a soaking; wrestled him to the floor; and then tore off his expensive sport shirt, according to deposition transcripts. The two claimed they were prepping him to celebrate his birthday by jumping into the river, the transcript also revealed.
Depositions also revealed that Jon followed the two down a flight of stairs and jumped the railing as one of them had done. However, Jon did not go far enough out from the river concrete wall and fell into two feet of water from about twelve feet high.
"This tragedy was caused when a professional security man failed to do his job properly" said Jon's attorney, Francis Patrick Murphy, "he was trained and experienced in dealing with rowdy people and he simply failed to do his job."
Jon suffered a fractured neck, requiring surgery. He is now a quadriplegic with limited use of his right hand only.
Murphy's expert, Francis Murphy (no relation), a retired distinguished Secret Service agent who served on four presidential security task forces, testified that Jon's injury was caused when the security man failed to remain with the rowdy patrons until they were escorted from the premises. Murphy, the expert, stated this was a failed security case and not a body of water accident case, according to deposition transcripts.
Case information: O'Connor v. 1177 N. Elston, et al. Case#2007L13978, Cook County Circuit Court, Hon. Kathy M. Flanagan.
About Corboy & Demetrio
Corboy & Demetrio is one of the nation's premier law firms. It represents individuals and their families in serious personal injury and wrongful death cases and is renowned for its achievements in the courtroom and for its contributions to the community. The rights and concerns of its clients are at the core of Corboy & Demetrio's practice. That commitment, dedication, compassion and relentless drive has resulted in exceptional service and exceptional results for its clients. The firm has acquired more than $3 billion in settlements and verdicts and has attained almost 600 settlements and verdicts in excess of $1 million. To speak with Patrick Murphy or any other attorney at Corboy & Demetrio, call 312.346.3191 or toll free at 888.364.3191.
###