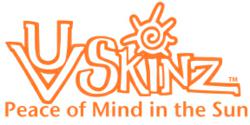 Sonora, CA (PRWEB) October 05, 2011
UV Skinz, a leading provider of sun protective wear, is proud to announce its exhibitor participation in the American Academy of Pediatrics 2011 National Conference & Exhibition (2011 NCE) in Boston, Massachusetts from October 15-18, 2011. UV Skinz encourages attendees of the 2011 NCE to visit booth #1355 to learn about UV Skinz' wide array of sun protective wear and accessories and to find out just how easy it is to live sun safe while having fun outdoors.
UV Skinz attendance at the 2011 NCE marks another step forward in its mission to protect children from the damaging effects of the sun's UV radiation. "Most people don't realize that one severe sunburn as a child more than doubles the risk of getting cancer as an adult," explains Lindsay Sparks, Vice President of Marketing of UV Skinz. Lindsay adds, "We want to raise awareness about the need for effective sun protection. While our products only require one application for all day protection and carry a UPF rating of 50+, which blocks over 98% of the sun's harmful UVA and UVB rays, most sunscreens require multiple applications for the same period of protection and do not block UVB rays." Anyone interested in learning more information about UV Skinz and its products and can be found on UV Skinz website at http://www.uvskinz.com.
More than 2 million cases of skin cancer will be diagnosed this year. UV Skinz hopes to change these statistics as 98% of these cancers are preventable. "By attending the 2011 NCE, we hope to meet new partners who will help us spread the word about sun safety and effective sun protection," states Lindsay Sparks.
About UV Skinz
UV Skinz is a leading provider of UV protective wear, swim shirts and accessories for the entire family. By providing the highest quality and hippest designs at competitive prices, UV Skinz aims to make sun protection effortless. For more information about UV Skinz, interviews, product samples and/or jpg photos, go to http://www.uvskinz.com , call 1 (877) 887-UV SKINZ or email lindsay(at)uvskinz(dot)com.
###