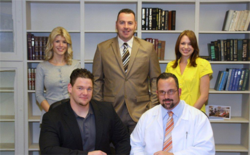 There is no question that addressing addiction in its earliest stages is effective and improves outcomes.
Houston, Texas (PRWEB) October 05, 2011
Right Step is proud to spotlight its highly accredited network of adolescent treatment programs.Jayson M. Pratt, Ph.D.c, LCDC, Director of Adolescent Services cautions, "Although adolescent drinking is sometimes seen as a rite of passage for American teenagers, those adolescents actually impair brain development, engage in elevated levels of risky behavior, attempt suicide at an increased rate, and fare much worse in school than their non-drinking peers." According to the 2005 Monitoring the Future study, a full 75 percent of 12th graders have consumed alcohol and 29 percent of those have engaged in heavy episodic (binge) drinking within the past two weeks. Pratt continues, "At Right Step we are happy to offer adolescent services to meet the escalating treatment needs of teens in Texas."
"There is no question that addressing addiction in its earliest stages is effective and improves outcomes. That is why Right Step is dedicated to serving Texas teens with best-in-class, Joint Commission accredited inpatient and outpatient treatment," said Right Step CEO, George Joseph.
Professionals who would like to refer a client and families wanting to discuss treatment options for a loved one, please call 87.SOBRIETY (877.627.4389) 24-hours toll-free.
Right Step Adolescent Treatment Centers
Dallas / Fort Worth Area
Right Step DFW-Central
2219 W. Euless Blvd.
Euless, Texas 76040
Right Step Park Cities
8222 Douglas, Suite 390
Dallas, Texas 75225
DFW-Central is the company's flagship adolescent program, offering in-clinic interventions, sub-acute detox, residential treatment, IOP, and aftercare. Park Cities is in the heart of Dallas' most affluent neighborhoods, offering IOP focused on junior high and high school teens.
Houston and San Antonio Areas
Right Step Baytown
1515 Alexander, Suite 115
Baytown, Texas 77520
Right Step Galleria
2630 Fountain View Dr., Ste. 370
Houston, Texas 77527
Right Step Houston-Northwest
16100 Cairnway, Suite 350
Houston, Texas 77084
Right Step San Antonio
12042 Blanco Rd. Suite 101
San Antonio, Texas 78216
Right Step Houston-West
1511 Upland, Suite 100
Houston, Texas 77043
Right Step The Woodlands
25319 I-45 North, Suite 102
Spring, Texas 77380
These highly successful IOPs provide a structured, supportive, caring environment led by licensed professionals. The programs are at least 9 hours/week and utilize evidenced-based treatment modules. Twelve Step programming is modified to help young clients discontinue bad habits and replace them with positive behaviors. Treatment centers are conveniently located throughout the greater Houston area and San Antonio.
More About Right Step and Spirit Lodge
The largest alcohol and drug treatment company in the Southwest, TRS' 20 locations throughout Texas are comprised of caring, experienced, and highly credentialed clinical professionals with proven expertise in addiction treatment. CEO George Joseph, LCDC, was nationally recognized as a "2009 Behavioral Healthcare Champion" and "National Counselor of the Year" in 2000. Chief Medical Officer Jason Powers, M.D. was voted one of Houston's "Best Doctors" and is recognized as a leader in addictionology, both as a physician and author. The company's Spirit Lodge offers highly personalized drug rehabilitation and alcohol treatment in a private, resort-like setting in the scenic Texas Hill Country. Right Step and Spirit Lodge are known for effective, affordable substance abuse treatment, and a commitment to helping people every step of the way on their paths to more meaningful, rewarding lives.
####