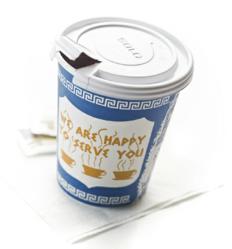 The iconic New York Coffee Cup is no longer an endangered species.
New York, NY (PRWEB) October 04, 2011
Since 1963, a quirky blue paper cup has been synonymous with coffee-to-go in New York. At one time, as many as 15 million of the cups emblazoned with "We Are Happy To Serve You" were used every month in the city. But as diner coffee gave way to upscale coffee bars, declining demand caused the manufacturer to discontinue the iconic cup. Not to worry. The New York First Company, a specialty retailer, announces it has contracted with the Solo Cup Corporation to resume production. The cups (with lids) are now available for purchase in lots of 100 ($36) at http://www.newyorkfirst.com.
In the early 1960s, most of the city's diners and delis were Greek-owned. That's when the design featuring ancient Greek urns, Homeric lettering, and steaming coffee, framed in an ornamental meander motif, was introduced. For over 4 decades, the distinctive coffee-to-go cup was a familiar sight on the streets of New York and is so connected to the city's culture that it continues to be a standard prop in films and TV shows set in the city.
"The distinctive coffee cup is one of the things that makes New York, New York," says Jeffrey Turback, spokesman for The New York First Company. "Its image once graced the cover of the Manhattan phone book. We're delighted it is no longer an endangered species."
###