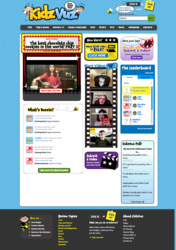 Adults love to check out review sites before they buy. We figured that tweens would want to do the same" explains Levey. "So we created KidzVuz as the first safe, dedicated place for them to do just that.
New York, NY (PRWEB) October 04, 2011
Starting today, kids have their own dedicated website for sharing their views about what they love - from books to movies to games and more: KidzVuz™. KidzVuz is the first online community designed specifically for tweens, ages 7 to 12, to create their own video review content in a safe, parent-friendly environment. Just like grown-ups, kids love to share their opinions. With KidzVuz, they now have a community built just for them where they can safely have their say.
On KidzVuz, kids create and upload the videos and engage in the conversation. But unlike other video-sharing sites, KidzVuz is designed specifically for the under-13 set. The site engages kids, encourages creative thinking and even provides the tools to learn about video creation. Plus, it is fully monitored by a panel of parents and COPPA compliant. Age-inappropriate videos and comments or personal information are never allowed or posted.
Key features of the site include:

An integrated webcam - so kids can record their videos without leaving their computer.
A film school that teaches kids how to make great videos
Badges: With each review or comment, kids earn badges and points, complete missions, and follow the leader boards, all powered by Badgeville
Social media features that allow kids to create communities based on shared interests.
Fan Clubs…and more
KidzVuz™ is the brainchild of two prominent Mom Bloggers, Rebecca Levey and Nancy Friedman. They met in the virtual space, and turned the online friendship into a real life partnership and business. As mothers of tech-savvy tweens who like to share their opinions, they recognized there was no safe online community for them to do so.
"Adults love to check out review sites before they buy. We figured that tweens would want to do the same" explains Levey. "So we created KidzVuz as the first safe, dedicated place for them to do just that."
Safety for this age group was a big factor – but so was fun. "We understand the dangers of the Internet for kids this age, but we're tired of all the focus on the negative." says Friedman. "KidzVuz celebrates kids in the digital world. It's a safe space for them to start creating their digital footprint -- expressing their views, forming virtual communities, creating their own content, and having their say."
Adds Levey, "There are 20 million tweens in the US, with $43 billion to spend – and we want KidzVuz.com to be the place they go to find out how to spend it – not from editors or professional reviewers – but from kids like them."
More About Rebecca Levey: Rebecca began her career in advertising where she worked on campaigns for entertainment companies including ABC TV Daytime and Primetime, as well as brands such as Nabisco and The Discovery Channel Store.
She is the Social Media Editor of Mom Blog Magazine, and is the founder and co-host of The Blogging Angels Podcast, a weekly show about women in social media and the blogosphere. A member of the Yahoo! Mother Board, her blog posts have been nationally syndicated through McClatchy/Tribune and in The Washington Post. Her personal blog is Beccarama.com.
A respected public education advocate, Rebecca was the 2011 New York State delegate to the Mom Congress in Washington DC and a White House Champion of Change for Education.
More about Nancy Friedman: Nancy spent nearly two decades as a freelance television writer and producer, creating marketing, promotional and branding material for clients such as Nickelodeon, HBO, Lifetime Television, WCBS, and The Disney Channel.
A veteran blogger, her posts have appeared online in The Miami Herald, The Philadelphia Inquirer, The Sacramento Bee and more. With Rebecca, she is one of The Blogging Angels, co-hosting a popular weekly podcast for women about harnessing the power of social-media.
Nancy was a founding member of the online Pregnancy Community of the personal genome testing company, 23andMe. She is the NY travel expert on TravelingMom.com, and has been published in numerous magazines and anthologies. Nancy is the founder and creator of the humor blog, FromHiptoHousewife.com.
More About KidzVuz: http://www.KidzVuz.com, wholly owned by KidzVuz LLC, is a video sharing site for kids age 7-12 . On KidzVuz, tweens watch and leave video reviews of books, movies, TV shows, toys, tech and more. In a safe, COPPA compliant space, create community, content, and connections with other kids who share their passions.
KidzVuz' Mission is to:
Promote a community where tweens connect, comment and create.
Provide a safe, parentally approved, moderated space where kids can have their say.
Encourage critical thinking.
Give brands the opportunity to create authentic connections with Tweens.
Create the most valuable kid-to-kid experience on the Internet.
In fulfilling our mission, KidzVuz will become the premier destination for brands looking to reach and understand a highly targeted tween market, and the go-to site for the 20 million US tweens who want to know where and how to exercise their $43 billion of spending power.
###