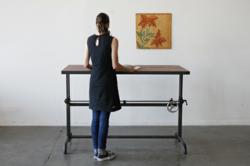 San Francisco, CA (PRWEB) October 06, 2011
OHIO Design, one of the few local designers and manufacturers of modern furniture in San Francisco, is announcing it's newest product, the Adler Table. Taking it's cue from machinist tables built at the turn of the century, this piece is as beautiful as it is functional.
Designed by OHIO's founder, David Pierce, the adjustable height desk provides an option to the utilitarian office solutions currently on the market. The simple wood and steel combination makes this piece versatile in style and use. The design can fit into a modern or rustic environment and works equally as well in a large office, as it does as a home desk or table. The crank is made from solid steel gears and a chromed, cast iron handle that is easy to operate. The table comes standard in a 30 in x 60 in solid Walnut top and hand-rubbed gun blue finish steel legs, which creates a black/blue patina finish and protects the raw steel against rust. It ranges in height from 27in to 42in, making it easy to change positions throughout the day. The table can be ordered in a variety of sizes. The table top is available in different types of wood, while the steel legs can be powder-coated in practically any color.
In an era when people are spending more and more time at their desks, changing positions regularly to avoid injury has become very important. Ergonomics specialists site the importance of not doing any one thing for an 8 hour period, thus the need for a desk that can be easily adjusted multiple times in a day. Some also say that we are more productive when standing and that standing while working burns more calories than sitting.
About OHIO
OHIO Design is a San Francisco-based designer and builder of modern furniture and interiors, in business since 2000. All of their products are made in their converted warehouse workshop and studio. OHIO was founded by David Pierce on the values and intentions representative of his Mineral Ridge, OH upbringing – simple, honest designs and quality materials.
OHIO is located at 630 Treat Avenue @ 19th St. The studio is open by appointment Mon-Fri.
Contact 415 647.6446 or http://www.ohiodesign.com for more information.
###