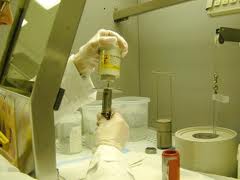 "The National Pharmacy Technician Association is honored and excited to have Anthem College-Beaverton as a licensed provider of our Certificate Program."
--Mike Johnson, CEO, NPTA
Portland, Ore. (PRWEB) October 04, 2011
Anthem College-Beaverton is proud to announce a new partnership with the National Pharmacy Technician Association and STAT Educational Services to offer pharmacy technicians specialized training courses in sterile products/IVs and compounding as a licensed training facility.
"We are pleased to offer this new opportunity for Pharmacy Technicians to gain national certification," says Leigh Christopherson, Campus President for Anthem College-Beaverton. "This is a great opportunity for our Pharmacy Technician graduates and others in this field who are looking to differentiate themselves in the market. Anthem College is excited about the opportunities this program holds for all participants."
NPTA's Certificate Programs in sterile products and compounding are designed to train pharmacy technicians in the latest techniques, methods and equipment used in preparing IV medications and in compounding medications. By mastering these skills, pharmacy technicians are open to more advanced career opportunities, such as clinical pharmacy, hospital pharmacy and oncology.
"The National Pharmacy Technician Association is honored and excited to have Anthem College-Beaverton as a licensed provider of our Certificate Programs," said Mike Johnson, the founder and CEO of NPTA. "This partnership symbolizes our shared commitment in helping pharmacy technicians meet the challenge to stay marketable and competitive in this rapidly-advancing profession."
About Anthem College-Beaverton
Originally established in 2004, Anthem College-Beaverton is part of Anthem Education Group (AEG), a Phoenix, Arizona-based family of schools and colleges that provides career-focused training and education programs at 23 accredited institutions in 15 states as well as online. The AEG family of schools includes Anthem College, Anthem College Online, Anthem Career College, Anthem Institute, Morrison University, and The Bryman School of Arizona. For more information, visit http://anthem.edu.
For more information about our graduation rates, the median debt of students who completed the program, and other important information, please visit our website at http://www.anthem.edu/disclosures.
ABOUT NPTA
The National Pharmacy Technician Association (NPTA), which was founded in 1999, is the largest non-profit trade association for pharmacy technicians in the world. The association represents over 30,000 individuals practicing In a variety of settings, such as retail pharmacy, health-system pharmacy, independent pharmacy, federal pharmacy services, purchasing, education and management. NPTA is the leading provider of accredited continuing education programs for Certified Pharmacy Technicians and offers advanced certification In Sterile Products, Compounding and Chemotherapy. All NPTA continuing education programs and Certificate Programs are accredited by the Accreditation Council for Pharmacy Education. For more information about NPTA and our Certificate Programs, go to http://www.pharmacytechnician.org.
# # #