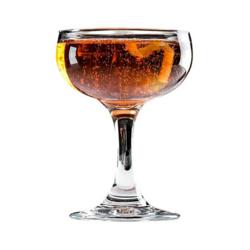 Like the film it appear in, the Champagne coupe is a classic.
Ithaca, NY (PRWEB) October 05, 2011
As the 1942 classic Hollywood movie "Casablanca" approaches its 70th anniversary, one of the film's most visible props has made its own comeback. Champagne never seems to stop flowing in Rick's Café, sipped from wide, shallow, saucer-shaped stemmed glasses called coupes. And while the coupe had been largely replaced by the tall, narrow flute for serving Champagne, current cocktail culture's interest in vintage drinks has inspired a re-discovery of classic glassware. Specialty retailer History Company announces the re-issue 1940s-era Champagne Coupes for the home bar ($44 Set of 4), identical to the original 5 1/2-ounce movie props as seen in "Casablanca." A gift box includes recipes for Champagne-based drinks served in the film.
"The coupes in 'Casablanca' have nearly as much screen time as Bogart," says Jeffrey Turback, spokesman for History Company, "and the saucer-shape is, like the film itself, a timeless classic."
###