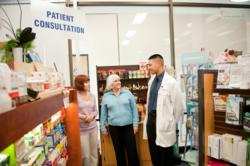 We saw a need in the community for a pharmacy that goes beyond filling prescriptions
Newport Beach, CA (PRWEB) October 05, 2011
On Thursday October 13, Newport Coast Pharmacy and Compounding Center is hosting a community health fair event from 11 a.m. to 4 p.m. at 400 Newport Center Drive in Newport Beach – across from the prominent Fashion Island Shopping Center.
The health fair will feature:

Free Health Screenings: bone density, glucose, blood pressure
Flu Shots
Live radio station - 94.7 FM (THE WAVE)
Complimentary taco bar and beverages
Raffle for prizes
Free food, entertainment and information will be provided at this event in partnership with over 20 area physicians and vendors. Brian Lyn, Pharm.D and co-owner with wife Frances are hosting the health fair to celebrate five years of service to the Newport Beach community. "As we approach our anniversary we wanted to give back to the community that has supported us and look forward to improving the health of attendees," Dr. Lyn said.
Newport Coast Pharmacy has become a thriving full-service pharmacy with delivery service and a newly remodeled custom compounding lab. Distinctive from other pharmacies in the area, Newport Coast Pharmacy features a Diabetes Shoppe, offering specialty items such as skin care products, sugar-free medications, glucose meters and testing supplies. The pharmacy provides a wide selection of diabetic footwear and Dr. Lyn and his staff are all certified on diabetic footwear fittings and custom inserts.
The secret to Newport Coast Pharmacy's success is no secret at all: exceptional customer service. "We saw a need in the community for a pharmacy that goes beyond filling prescriptions," said Frances. Customers will also appreciate Newport Coast Pharmacy's competitive pricing and policy to "meet or beat your prescription price."
Great customer service and commitment to the community have been the foundation of Newport Coast Pharmacy from the start, and the staff and pharmacist look forward to many more years of "Going Beyond Your Prescription."
For more information on Newport Coast Pharmacy or the health fair, call 949-719-3707 or visit http://www.newportcoastpharmacy.com.
###