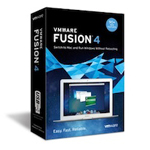 Ottawa, Ontario (PRWEB) October 04, 2011
e-academy Inc. is excited to announce the launch of VMware Fusion 4, now available for direct download via the OnTheHub eStore. The newest version of VMware's virtualization software makes it easier than ever to run Windows applications on a Mac. Fusion 4 is available to students, faculty and staff for just $39.99 USD.
VMware Fusion 4 has been refined from the inside-out to deliver the easiest and fasted experience running Windows programs alongside Mac applications, without rebooting. With the ability to run Windows-only programs like Microsoft Project, Access and Internet Explorer, VMware Fusion turns Mac into the ultimate computer for compatibility. Whether running Windows XP, Vista or 7, Fusion 4's easy install feature will have users up and running in no time.
Designed for Mac OS X Lion, VMware Fusion 4 has over 90 new features:

Better performance and faster graphics are optimized for today's multi-core Macs and delivers 3D graphics up to 2.5-times faster
An even more "Mac-like" experience enhances the way Windows programs run on a Mac
Brand new settings menu, redesigned virtual machine library and snapshot menu
Supports OS X Lion in a virtual machine, allowing users to get more from their Mac
and more!
Switching Made Easy
For those switching from PC to Mac, VMware Fusion's migration assistant for Windows makes the transfer easier than ever. Users can make the most of their existing Windows software by accessing PC programs and files directly on their Mac.
VMware Fusion 4 is available for immediate download to verified students, staff and faculty for just $39.99 USD. Visit the OnTheHub eStore to purchase VMware Fusion 4.
About VMware
VMware delivers virtualization and cloud infrastructure solutions that enable IT organizations to energize businesses of all sizes. With the industry leading virtualization platform –VMware vSphere® – customers rely on VMware to reduce capital and operating expenses, improve agility, ensure business continuity, strengthen security and go green. With 2010 revenues of $2.9 billion, more than 250,000 customers and 25,000 partners, VMware is the leader in virtualization, which consistently ranks as a top priority among CIOs. VMware is headquartered in Silicon Valley with offices throughout the world and can be found online at http://www.vmware.com.
About OnTheHub
OnTheHub Network is a collection of WebStores brought to you by e-academy Inc, in partnership with your school or academic institution, software publishers and educational resellers. When your school is part of the OnTheHub Network, you get access to exclusive discounts and deals on academic software. The Network consists of one global eStore, which students, faculty and staff worldwide can access, as well as over 30,000 school-branded WebStores that carry school-specific deals and academic pricing on software.
Visit OnTheHub's Facebook Page
###