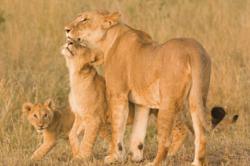 ...Travelers reap the benefits of a company with three decades of safari experience.
HELENA, Ala. (PRWEB) October 04, 2011
Imagine capturing thousands of animals in a single sweeping glance as they make their way across the Mara River. Picture yourself tracking gorillas in the wilds of the Bwindi Impenetrable Forest or rubbing elbows with an ancient animist culture in a land rarely visited by Westerners. These and other extraordinary experiences are brought to life by International Expeditions on their signature small-group safaris to East Africa and Uganda, two new expedition cruises to West Africa, and multiple private tour options throughout the African continent. While exploring the wonders of Africa, International Expeditions' travelers reap the benefits of a company with three decades of safari expertise.
Kenya & Tanzania Safari
Seeing the legendary herds move across the unfettered African plains is a wildlife enthusiast's dream. Hearts pound with the excitement of discovery — be it watching a cheetah pursue a gazelle at 70 miles an hour or spotting lions hunting for their dinner. The great herds — often consisting of hundreds of thousands of animals — migrate throughout the Serengeti ecosystem year-round, making IE's Kenya & Tanzania safari ideal for game viewing any time of year.
This small-group safari — limited to just six guests and one guide per Land Cruiser — offers opportunities to watch the sun spill across the savannah on early-morning game drives or chat around a campfire with IE's personable, highly trained local guides. Afternoon and evening game drives await in five national parks, with the chance of seeing all the "Big Five" animals (lion, elephant, Cape buffalo, rhino and leopard), plus ample time to observe unusual species such as topi and hundreds of bird species.
International Expeditions guests also enjoy the rare opportunity to discuss life in the Maasai tribe, from childhood to becoming an il moran (warrior) with our good friend and tribal elder Ben Kipeno.
The Kenya & Tanzania safari has 11 year-round departures in 2012 with prices starting at $5,983.
Uganda
Winston Churchill called Uganda the "pearl of Africa" for good reason. This small country is a microcosm of African wildlife and habitats with wildlife and plants characteristic of both East and West Africa, meaning adventurers can see more in a short visit than anywhere else in Africa.
Travelers looking for a hidden jewel in Africa can absorb Uganda's sweeping savannahs, captivating cultures and glorious wildlife on IE's Uganda trek, capped at just 10 guests per departure. This comprehensive itinerary includes escorted gorilla and chimpanzee treks in the Kibale Forest and Bwindi Impenetrable Forest National Park, along with three private launch journeys on the Nile and Kazinga Channel. Plus, IE's Uganda safari includes three days at Murchison Falls National Park, increasing guests' chances to see giraffe, elephant, buffalo, hippo, Nile crocodile and elusive shoebills. Highlighting the cultural experiences on the Uganda tour is a special traditional lunch in a local home, a visit to the village school and meeting with local elders. Guests even stop at a local paper-craft project in Kampala, where urban women use local raw materials and recyclable products to create hand-made paper.
IE offers four Uganda safari departures in 2012 with prices starting at $6,798.
West Africa
New to International Expeditions' 2012 roster is a 13-day voyage venturing along the remote coasts of West Africa aboard the 34-guest yacht Callisto. The "Into Africa" program travels to Senegal, The Gambia, Guinea-Bissau, Bijagós, Guinea and Sierra Leone to offer an exclusive look at regions of Africa that few travelers have ever experienced. Highlighting this itinerary is the Bijagós Archipelago, where guests can observe rare saltwater hippos in this chain of islands where nature is considered holy by the ancient, animist culture. Prices for the journey departing February 22 start at $8,995.
Guests looking to combine an in-depth discovery of West Africa's great civilizations — Timbuktu, Djenné, Mopti and the Dogon Region — with the wildlife-rich waterways of Senegal and The Gambia can join IE's 19-day West Africa expedition cruise aboard the 46-guest yacht Pegasus. Prices for the cruise departing January 31 start at $10,298.
Custom Travel
For those looking to explore Africa independently or on their own schedule, IE offers an array of luxury, private tour and safari options that are custom tailored to each traveler's needs. International Expeditions' Custom Travel Planners can arrange journeys in Kenya, Tanzania, Rwanda, Zanzibar, South Africa, Namibia, Botswana and beyond.
Celebrating 31 years of nature travel, International Expeditions specializes in small-group journeys to Earth's most exhilarating destinations. A pioneer of environmentally responsible travel, IE is committed to preserving natural habitats and improving the welfare of the people and communities it visits. International Expeditions has been named to Travel + Leisure's list of "World's Best" tour operators & safari outfitters seven times and to National Geographic ADVENTURE magazine's list of "Best Adventure Travel Companies on Earth."
For more information or a brochure on 2012 journeys, call International Expeditions at 1-800-234-9620, e-mail nature(at)ietravel(dot)com, or visit http://www.IEtravel.com.
###