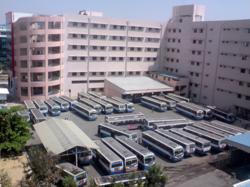 "By investing in this leading-edge technology and delivering better service to our community, we are investing in the long-term future for our organization," said Suzie LeHouillier, director of projects, RTL.
Denver, Colorado (PRWEB) October 04, 2011
The Réseau de transport de Longueuil (RTL) public transportation service in Longueuil, Quebec is implementing a fully integrated parking automation and automated driver assignment system based on the Ubisense Transit Yard Manager (TYM) solution for the precise positioning of its buses. RTL's new fully automated bus management system will improve fleet management of its 450 buses that provide rides to more than 120,000 customers per day across five cities. Solotech and ISR Transit formed a partnership to deliver this solution to RTL and chose the Ubisense TYM solution for the RTL deployment which is scheduled to be completed in March 2012.
The solution will be comprised of:

Bus Depot Management (BDM) Core Application, integration with RTL's existing software and project management provided by ISR Transit;
Digital display, PC panels, card readers, and hardware installation and integration provided by Solotech;
Transit Yard Manager solution provided by Ubisense, with augmented functionality for RTL.
"The benefits provided by this automated solution will enable us to further streamline our operations so we can optimize the use of our resources and provide our customers with even better transportation services," said Suzie LeHouillier, director of projects, RTL. "By investing in this leading-edge technology and delivering better service to our community, we are investing in the long-term future for our organization."
The Ubisense TYM solution utilizes an ultra-wideband (UWB) real-time location system (RTLS) to provide precise location tracking. The Ubisense TYM solution will provide RTL with multiple benefits that will improve fleet management efficiencies and costs. Benefits include decreased human errors due to manual bus-finding, reduced search times, improved pullout-times and increased fleet availability through reduced maintenance down-time.
"Solotech and ISR Transit decided to partner with Ubisense for this project because it supplies the only location solution we have found that provides highly reliable and precise bus location," said Youval Abenhaim, vice president of business development for ISR Transit. "That is very important for this deployment as ISR's Driver Assignment Automation software has to give the right bus to the right driver to the right route, all the time."
"The RTL contract reflects Solotech and ISR Transit's continued expansion into the Intelligent Transportation System North American market and the continued trust given ISR and its partners by our valued customers."
How it Works
ISR Transit will install the Ubisense RTLS solution, comprising industrialized bus location tags and a network of sensors, throughout RTL's three garages. The Ubisense TYM solution will determine the precise position of each bus based on this sensor data and transmit the information to the BDM Core Application.
The location of each bus will be updated in real-time and published to a database so that anyone in the organization can see the status and location of a vehicle. Using a map-based display, dispatchers can view the location and other critical information, such as bus type, equipment options, seating capacity and maintenance status when making vehicle and operator assignments. Buses can be assigned to the bus driver in real-time by touching the distribution console with their smart card. The assigned driver is then given an exact location by the distribution console and screens displayed throughout the garage facilities provide updates.
"We believe RTL has an industry-leading vision of the future of transportation yard automation and we are proud to have been selected to deliver this vision with our partners in Montreal," said Adrian Jennings, vice president of technology, Ubisense.
About ISR
ISR Transit builds solutions for transportation industry such as Automatic Vehicle Location, Computer Aided Dispatch, Operations and Fleet Management, Real-Time Passenger Information System, Trouble Ticket Management System and Mobile Video Security Systems based on ISR hardware, software and from selected 3rd party manufacturers. ISR products enable transit and fleet agencies to improve the operational efficiency, information dissemination, transportation demand management, and security of the public and private transportation systems.
With over twenty three years of R&D and over 60,000 units installed and deployed across the world, ISR is committed to providing world-class software and hardware for transit intelligent transport systems based on quality product and upmost service to our customer. ISR will bring to the table the latest technology while providing reliable delivery and services to the customer.
About Solotech
Solotech specializes in the integration of intelligent transportation systems through the use of various audiovisual and electronic technologies. We propose global solutions that optimize the use of transportation infrastructures and maximize those networks. Our solutions allow our clients to better control their operations and to improve security while at the same time offering better customer service to public transit passengers.
Our field of activity consists of: RFID detection, GPS and video monitoring, network communication between the various components of the systems, operational and control rooms, operational system and data broadcast software, video display and public announcement systems.
About Ubisense
Ubisense, the market leader of location solutions, delivers mission-critical enterprise asset tracking and geospatial systems. The company's location technology provides more than 500 customers worldwide with unprecedented visibility of, and control over, previously intractable business processes. Ubisense is headquartered in Cambridge, UK, with offices in the USA; Canada; France; Germany; Singapore; and Korea. For more information visit: http://www.ubisense.net.
Media contact:
Michelle Baum
Ubisense
303-284-8440
michelle(at)chasecomm(dot)net
###