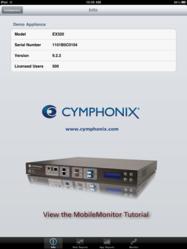 We're seeing huge adoption of the iPad, particularly within education, and it just made sense to make this available to our iPad users.
Salt Lake City (PRWEB) October 05, 2011
Building on the success of their iPhone® App, Cymphonix® announced today the release of the industry's first business class Internet traffic monitoring and reporting App for the Apple® iPad, the Cymphonix MobileMonitor. Combined with an implementation of the award-winning Network Composer® appliance, the app gives network administrators real-time insight into their organization's Internet usage from anywhere at any time.
As network users become more mobile and usage increases across all hours of the day, Network Administrators are required to report, monitor and diagnose network incidences and usage on the fly at practically any moment. The MobileMonitor App assists them in meeting this requirement, and makes it possible for them to get details on a variety of fronts, including bandwidth, spyware, applications, total traffic, FTP, and more. Further, the app allows them to sort and report on this data by directory user, network node, application, and file type among other options.
"We're excited to release the MobileMonitor app for the iPad," stated Brent Nixon, Cymphonix CEO. "Network administrators have a difficult job, and the fact that they're required to troubleshoot network issues at virtually any time and any place just makes their job that much more challenging. A few years ago, we set out to make that requirement easier and saw an amazing response to our iPhone app. Now we're seeing huge adoption of the iPad, particularly within education, and it just made sense to make this available to our iPad users. We're confident it will make their jobs easier."
The MobileMonitor App for iPhone/iPod and iPad is available for download from the Apple iTunes® Store at http://itunes.apple.com/us/app/cymphonix/id322984301?ls=1&mt=8. Network Composer users can use the app to connect directly to their appliances and access their data in real time. Users without a Network Composer installation connect to a live Cymphonix in-house installation where they can demo the reports and monitoring capabilities of Network Composer to get a better idea of how it would work on their network.
About Cymphonix
Cymphonix helps organizations get clarity into and control over their Internet-bound traffic. As demand for content grows exponentially, network administrators' ability to control and filter content, prioritize traffic and applications, and manage bandwidth is taxed to the extreme. Too often, they must resolve incidences and usage issues by cobbling together information from scattered locations and products. The result? Time and cost-intensive forensics and policy-setting that's rarely based on a true understanding of the who, what, when, and where associated with the content and traffic flowing over their Internet connection. Cymphonix's line of network appliances is a single source solution that allows network administrators to quickly, easily and clearly understand down to the minutest detail what's happening on their connection at any given time, and then easily set and enforce policies across their network. Consequently, they spend less time on incidence response, forensics, and enforcing consistent policy, while gaining full control over content, applications, traffic, and bandwidth. For more information, please visit http://www.cymphonix.com.
© 2011 Cymphonix Corporation. Cymphonix and Network Composer and their associated logos are the registered trademarks of Cymphonix Corporation. Apple, iTunes, iPad, iPod, and iPhone are the registered trademarks of Apple Inc. All other company, brand and product names, logos and marks are the registered trademarks of their respective owners. All rights reserved.
###