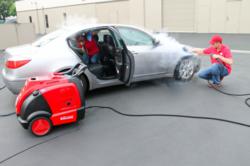 Carson, California (PRWEB) October 04, 2011
At PowerClean 2011, Steamericas demonstrated the power and versatility of its Optima Steamer. The Optima Steamer is a portable steam machine that produces both dry and wet steam. PowerClean 2011 was hosted by the Cleaning Equipment Trade Association (CETA). The event took place September 24-27 in Scottsdale, Arizona, at the Talking Stick Resort. Manufacturers and distributors displayed and demonstrated their latest and most innovative cleaning products.
The Optima Steamer was well received at PowerClean 2011. Steamericas showcased the only steam vapor machine at the event. In addition to being a member of CETA, Steamericas attended PowerClean 2011 in response to a demand for effective alternatives to high powered pressure washers. Environmental and waste-water regulations have impacted the pressure washer industry. Traditional pressure washers consume large quantities of water and produce an equal amount of waste-water. Portable waste-water contaminant systems required by law can decrease productivity and increase operating costs. This ultimately increases costs for the customer.
Steam has become increasingly popular for its ability to produce little-to-no waste water, reduce chemical consumption and sanitize surfaces. Steam loosens dirt and grease faster than traditional pressure washers that apply mostly cold water. Steam can greatly increase productivity and profit margins for businesses. The presence of steam machines continue to increase in the agriculture, automotive and janitorial industry.
The Optima Steamer has become popular for its dual spray guns, continuous steam pressure and ability to produce both dry and wet steam. Attendees at PowerClean 2011 admired the machine's user friendliness, mobility, minimal water consumption and many cleaning applications. In the last year, U.S. sales of the Optima Steamer to the automotive industry have soared. Auto detailers, car dealers, car washes and service centers use the Optima Steamer to clean and detail auto interiors, exteriors and engine compartments. The term steam car wash is now synonymous with environmentally friendly car wash. On average, mobile vehicle wash operators using the Optima Steamer reduce waste-water production and chemical and water consumption by over 90%.
The Optima Steamer is manufactured by SJE Corporation in South Korea. Steamericas serves as the U.S. branch. Production of the Optima Steamer began in 2004. The Optima Steamer has since been sold to over 80 countries. In early 2010, SJE Corporation launched Steamericas in Carson, California in response to an increase in demand for steam machines in the U.S. Steamericas is now seeking qualified distributors for the Optima Steamer.
###