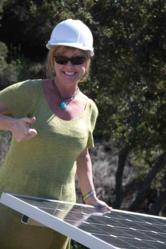 NABCEP has become very important to the solar industry.
Murrieta, CA (PRWEB) October 04, 2011
This relevant solar photovoltaic [PV] course, entitled 'Solar PV Design and Installation', will be taught the week of October 10th through October 14th at Ambassador Energy's headquarters and training facility in Murrieta CA. The company is one of seven training providers in the state of California qualified to teach and test for the NABCEP EL certification. Its trainers are NABCEP certified in both PV Installation and PV Technical Sales.
Class tuition includes a textbook [$100 value] and the opportunity to build an actual solar photovoltaic system. The following subjects are also addressed:

How PV Works
What Affects Solar Output
PV System Components
Electrical and Solar Terminology
Solar Site Evaluation
Shade Analysis
PV System Design
Solar Panel Racking
PV Permits and Contracts
Solar Installation Safety
OSHA Standards
Install a System in the Classroom
"NABCEP has become very important to the solar industry," said Kelly Smith, President of Ambassador Energy. "Many states now require that solar companies have a NABCEP certified employee, and we are seeing more states subscribe to its importance. At Ambassador Energy, we love NABCEP and teaching classes for the tests, as it helps establish high benchmarks for excellence within this quickly-growing industry. We want as many highly-qualified installers and sellers out there as possible, so that the industry as a whole has a bright and positive future."
Based on high demand, Ambassador Energy will continue to offer the 'Solar PV Design and Installation' course, followed by the NABCEP EL test every other month or more. In addition, they offer one-, two- and three-day training classes on related subjects, ranging from 'Solar for Electricians' to 'Become a Solar Referral Agent'.
The Ambassador Energy training team also provides continuous training, support and customized webinars for its family of 81 Authorized Agencies nationwide.
About Ambassador Energy
Ambassador Energy (AE) is a solar training and distribution company, with 81 Authorized Agencies operating in 17 US states. AE employs two NABCEP Certified Installers (Fulgham 031310-74 and Kelso 031310-124) and one NABCEP Certified PV Technical Sales professional (Fulgham 012911-35). AE provides a turnkey, consolidated platform of renewable energy training, support, product-agnostic distribution and evolving mindshare to a nationwide network of Ambassador Energy Authorized Agents, who are contractors and entrepreneurs augmenting their portfolios by offering renewable energy solutions to their clients.
Ambassador Energy offers their Agency program to qualified candidates. New Agency Training is offered approximately once every four to six weeks.
###