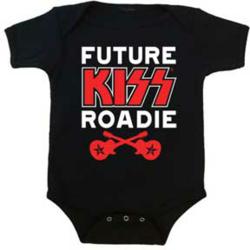 "Putting all these bands' cool baby clothes on one site makes it easier for the consumer..."
Aberdeen, NJ (PRWEB) October 20, 2011
In a recent episode of A&E reality show, Gene Simmons' Family Jewels, Simmons is portrayed in his office holding up a KISS baby onesie that reads, "Future KISS Roadie". No doubt, Simmons is a master marketer of his brand. But, one element of the proposition was missing from his coy promotional prompt for KISS rock baby clothes. Where can one buy this?
The onesie would be a very cool baby shower gift for a friend who is having a baby and loves the rock band KISS. Yet, these types of novelty items are difficult to find in stores. Kiditude.com offers the solution with a website stock full of affordable, high quality, officially licensed baby and toddler concert tees.
Like KISS, many rock bands of the 70's, 80's and 90's have a strong enough brand and large enough market to create a new source of income from the sale of licensed baby clothes. "Putting all these bands' rock baby clothes on one site makes it easier for the consumer to buy multiple bands they like for their children or put together a complete baby shower gift with one shipping cost or no shipping cost if the total is over $75 to anywhere in the US," says Laura Brown, Owner.
Simmons' premise was correct. In the last 15 years, KISS has sold more than a half billion dollars in merchandise according to CNN. Expressing parental personality and kids' attitudes through rock and punk baby clothes is now a trend. It's a trend on which Simmons is capitalizing by authorizing production of a shirt that appeals to millions of KISS fans who are having babies or expecting grandchildren.
"Kiditude offers a better shopping experience," Brown explains, "the website interface is clean, trustworthy and cutting edge. Most importantly it's easy to navigate and make a purchase." The buyers have put together a collection of clothing and accessories that are aesthetically pleasing, comfortable and well made. Many of the items it carries are shown on popular TV shows and worn by celebrity's children.
The KISS Future Roadie onesie along with the matching toddler t-shirt are available on the Kiditude.com website which also carries bands such as AC/DC, The Beatles, Bob Marley, Bon Jovi, Johnny Cash, Metallica, Michael Jackson, Pantera, the Ramones and more.
In addition to rock n' roll baby clothes, the Kiditude collection includes punk, skate, skull, guitar, tattoo and funny baby and toddler clothing. Cool accessories to accent a baby bodysuit or baby shower gift include unique baby blankets, cool baby pacifiers, rock baby bibs, trendy baby hats and punk baby crib shoes.
Brown suggests, "a great idea for baby shower gift giving is to pair a rock music lullaby CD with a cool baby onesie for a complete gift." As Ellen described, "it puts them (babies) to sleep with cool music you'll want to hear too." The Rockabye Baby lullaby music CD's available at Kiditude were featured on The Ellen DeGeneres Show as well as on The Talk on CBS this year.
About Kiditude.com
Kiditude Apparel is a cool baby clothing company with offices in New Jersey. Kiditude specializes in providing rock band t-shirts for babies and toddlers, punk rock baby clothes and unique baby shower gifts for cool parents of kids with attitude.
###