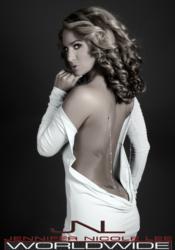 "I am not sharing my top tips and beauty secrets, from fashion, to make up, glamour, and even skin care, to empower all women to look and feel their best!" Jennifer Nicole Lee
New York, NY (PRWEB) October 04, 2011
Being one of the most photographed super fitness models of all time, Jennifer Nicole Lee now expands her worldwide brand into fashion, beauty, glamour, make up and skin care. With gracing over 47 magazine covers, and endless columns of accolades in the fitness, health and beauty industry, Jennifer Nicole Lee now embarks on a new series of episodes showcasing her fashion and make up know how, available exclusively at http://www.JNLTV.com JNL will share with her worldwide fan base her "JNL-Approved" make up tips, her tried and true daily beauty rituals, skin care must do's, her insight to fashion trends, plus and so much more.
When asked why now make up videos, fashion tutorials, beauty tips, and skin care info, Jennifer responded, "Well, I have always taught my fan base the importance of skin care, as you can see in my 'Fitness Model Diet' book, and now my production company and I have decided that a user friendly series of videos is only naturally the next step. And since I love make up, and have learned the secrets from all the top make up professionals that have done my make up, I am now sharing my top tips and secrets, empowering all women to look and feel their very best! And I always had a passion for fashion, and now am thrilled to celebrate this love with my entire fan base."
Jennifer Nicole Lee's make up tutorials will be available for download exclusively at her http://www.JNLTV.com website, at a small minimal cost, which is a fraction of the price of what one would spend on a professional make up appointment. Her videos are thorough, naming brands she uses and trust, with in depth demonstration of how to apply the makeup, and in what stages. In addition, you will get exclusive fashion faux pas and must do's that will not only turn heads, but break necks.
###