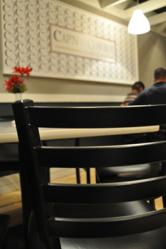 The addition of the restaurant chairs served to open up the restaurant and create a more inviting atmosphere.
Atlanta, GA (PRWEB) October 05, 2011
On September 28th American Hospitality Furniture's restaurant furniture was featured on the latest episode of Restaurant Impossible, which airs on the Food Network. The episode went through the amazing transformation of Port Charlotte, Florida restaurant Cap'n and the Cowboy. Chef Robert Irvine and Designer Krista Watterworth went through and revamped the restaurant by training the staff, reworking the menu, and renovating the décor. The episode focused greatly on Robert's constructive criticism of the business and staff and also focused on the drastic renovations made to the restaurant.
The restaurant's renovation process began by clearing out the restaurant and removing all the outdated restaurant furniture and décor. Even the carpet was removed and hardwood floor was put down to make the restaurant feel more modern. Chef Robert also noticed that half the restaurant booths were significantly worn and had tears in the cushions. This led to one of the highlights of the show: Chef Robert and Krista's decision to remove the booths and add American Hospitality Furniture's black metal ladder back restaurant chairs in their place. The addition of the restaurant chairs served to open up the restaurant and create a more inviting atmosphere. Getting rid of the worn out booths showed the customers that the restaurant paid attention to quality and detail, which showed up in the restaurant's new menu items.
Initially, Krista was overwhelmed by the constraints of the show which are a budget of $10,000 and less than two days to complete the renovation. In fact, halfway through, Chef Robert came to check on the renovations and both were worried about the state of the renovations and expressed concerns how they had never been so behind before. In the end, everyone stepped up and the restaurant held its grand opening to a full house. American Hospitality Furniture worked with Krista to get her the metal restaurant chairs within her chair budget and she was very satisfied with the results.
Owner Nick Scaringella and general manager Tamar LiCalzi were amazed during the reveal of the restaurant's renovation. The restaurant has been successfully operating since the show and four months later then restaurant has recorded its first profitable month. Over 3000 customers have eaten at the restaurant since the re-opening and the reviews are highly positive. Customers have credited the décor, the new bar, and the new menu, as reasons why they return to the restaurant.
The show will air again at the following times:
Oct 05, 2011 9:00 PM ET/PT
Oct 06, 2011 12:00 AM ET/PT
Oct 09, 2011 1:00 PM ET/PT
###