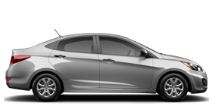 Offering two exceptional Specials on a 2012 Accent:
- Lease starting at $169 per month for 36 months
- Special APR Financing as low as 1.9% APR for 36 months or 2.9% for 48 months
Turnersville, NJ (PRWEB) October 04, 2011
October 3, 2011 Hyundai of Turnersville, the premier Hyundai dealer in New Jersey is offering two exceptional Specials on a 2012 Accent:

Lease starting at $169 per month for 36 months
Special APR Financing as low as 1.9% APR for 36 months or 2.9% for 48 months
Both offers end on 10/31/2011.
Check out available inventory at their web site at: http://www.hyundaiturnersville.com
Hyundai of Turnersville, located at the Turnersville Auto Mall, is just minutes from the Walt Whitman Bridge in Turnersville, NJ. With a full selection of New Hyundai and Certified Pre-Owned Hyundai cars, they are excited to be serving the needs of South Jersey's Hyundai customers.
Hyundai of Turnersville is located at: 3400 Route 42, Turnersville, NJ 08012. Call (856) 649-7511.
# # #