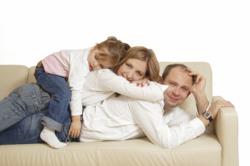 The Futon Shop Offers Green And Organic Furniture Helping Families Make The First Step In Committing To An Eco-Conscious Lifestyle.
San Francisco, CA (PRWEB) October 04, 2011
The Futon Shop, a San Francisco based manufacturer of green and organic furniture, is one of the largest retailers in the United States leading the path in green bedding and organic home furnishings. The Futon Shop has been around for 35 years, creating a healthy & better night's sleep with green futons and organic mattresses. The Futon Shop helps consumers contribute to these sustainable practices by providing functional and natural products for American homes.
What does "Greening your home" mean? The first thing is you should ask what is green design and why should I green my home? CBS News opened the conversation regarding green design in their article "40 who paved the way for the green revolution". One of the top Green Furniture pioneers mentioned was William Mcdonough, the prominent architect, along with chemist Michael Braungart, who encouraged manufacturers to redesign products for efficiency and recyclability. When looking into green design, there are numerous fronts opening, regarding the food we eat, the cars we drive, the clothes we wear, and the bed we sleep in. Greening your home has become the biggest trend, but what does it mean? And why as a consumer, should you care?
Suzanne Diamond, the owner of The Futon Shop helps explain the principles behind the subject of Greening your Home.
Q: Suzanne, how did you start The Futon Shop?
Suzanne: Thirty-five years ago I was an art student at the Boston Museum School of Fine Arts making futon mattresses on the floor by hand with just natural products: cotton, and wool. My philosophy of natural living came from a macrobiotic teacher, Michio Kushi, a reknown Japanese teacher, who taught the health benefits of sleeping on natural fibers instead of polyurethane foam. In the 70's, consumers found our products by word of mouth throughout the natural food movement. This demographic group were looking for natural fibers for the health of their bodies inside and out. By the 80's, William Bower, a Boston Architect who enjoyed working in wood, designed a black walnut hardwood futon frame that folded in three parts. It was displayed in the arts and crafts Museum next to the Museum of Modern art in New York City. We decided this was a great way to introduce futons, not just as a traditional bed mattress, but also as a space saving functional couch that converts into a bed. After this futon couch was developed and the mattresses became more popular by word of mouth, these simple practices of natural living ended up coinciding with the trend of green living throughout the decades, leading to our eleven retail location and selling to more than two million green consumers.
Q: What makes Futons from the Futon Shop more green than a traditional mattress?
Suzanne: one of the biggest differences between our mattresses and traditional mattresses is the organic components. The Futon Shop uses only green and organic materials in their mattresses. As a member of the Organic Consumer's Association, The Futon Shop takes pride in knowing that there are no synthetic chemicals in our Organic cotton. Organic agriculture is the only form of agriculture practiced on the planet that creates soil fertility and does not deplete soil nutrients. This method of soil fertility utilizes only renewable resources that do not pollute the environment and that foster biological activities within the soil. Other companies that use polyurethane do not coincide with The Futon shop's goal of sustainable manufacturing, because they do not use renewable practices, they use oil and energy; therefore, creating more carbon footprint and creating more fossil fuel. The Futon Shop takes great pride in being an innovator in manufacturing and encouraging their consumers to think about using less waste and chemicals into the environment.
Q: What about the wood that is used for your platform beds and futons couch frames?
Suzanne: According to the Sustainable furnishing council, which we are a member of, home furnishing manufacturers are one of the top three consumers of wood in the world. Deforestation is a major problem for our planet and many companies do not use green options when manufacturing their furniture. The Futon Shop on the other hand, uses plantation grown hardwoods including rubber wood for their platform beds and futon sofa frames. The way the rubber tree plantation works is the sap from the rubber tree is used, but once the sap is dried out, the tree must be taken out and a new tree must be planted. The trees are recycled and every frame we sell is not contributing to the disaster of deforestation.
Q: Are there other sustainable and green products that you have in your products?
Suzanne: We use top quality Bonnel springs, which are strong recycled steel. This recycled steel is tested according to rigorous standards, and offers a green alternative to traditional mattresses on the market. We also have green bedding, as well as a new Organic baby line.
Q: I have heard that your business is local, is that another way that your business is sustainable and green?
Suzanne: We are a member of made in SF, which is an organization for San Francisco local manufactures. Yes, we have been a locally San Francisco based factory, solely manufacturing organic and green products since 1976. According to the SFC
(Sustainable Furniture Council), conservation is a major shortcoming when it comes to most furniture businesses in America. There are countless importing and exporting companies which increase the carbon footprint. The Futon Shop is a local manufacturer, which does not import their futon mattresses.
Q: Why should consumers go green?
Suzanne:
I believe that consumers when aware of their choices, they often choose to go green because they want a better life as well as a better future for their children and their future. The Futon Shop and many other companies and organizations have been coming together to inform consumers how to make a difference and change the way the world is going. As active citizens with knowledge and awareness, we can all make the right choices for our future and our health.
###