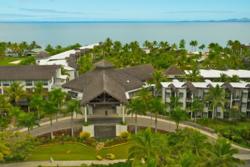 Six nights' at Radisson Blu Resort, Fiji. Three days R&R. Three days advanced SEO training. Can you see yourself there?
Brisbane, Qld (PRWEB) October 05, 2011
Search Engine Academy Australia has opened registration for their inaugural Fijian three day advanced SEO training program which will be held at Radisson Blu Resort Fiji, combining three days of work and three days of play for business owners. Registration for the advanced workshop is limited to ensure a low student to trainer ratio as a means to maximise learning opportunities.
"Our intention is to enable small and medium sized businesses to compete at an even level with big business. Therefore enrollment numbers are deliberately kept low to ensure each participant gains individual attention and instant feedback for any questions that arise throughout the sessions," said Sue Cooper.
The hands-on workshop will focus on several areas over the three days including social media, video SEO, competitive intelligence and advanced keyword forensics. As part of the program, you will be carrying out "real life" SEO techniques under the watchful eye of your qualified instructors, so having a laptop is important. Though a basic understanding of search engine optimisation is an advantage, it is not considered a necessity and all who are interested in achieving significant online growth are encouraged to enquire.
This workshop is aimed specifically towards business owners who do not find the time to have a holiday. The workshop will provide the perfect guilt-free experience for business owners who want to enhance the success of their business via the web, and who would like to have some rest and relaxation at the same time.
Cooper said, "There are too many business owners who don't take time out to smell the roses. This workshop/holiday provides the best of both worlds – a few days R & R to clear the mind and an advanced training program that will have a positive growth impact for their online business success, allowing more leisure time down the track."
As well as the three day SEO training workshop, the package also includes return airfares, coach transfers, 6 nights' accommodation at the Radisson Blu Resort, welcome drinks, daily buffet breakfast and travel insurance. Special rates are also available if you would like to bring your partner.
For further information regarding the workshop or to register, go to Search Engine Academy, email info(at)searchengineacademy(dot)com.au or telephone them on +617 3818 7834.
About Search Engine Academy Australia:
Search Engine Academy Australia is part of the international SEO training provider Search Engine Academy, founded by John Alexander and Robin Nobles more than 10 years ago. A standardised curriculum is taught at all their academies around the world. Sue Cooper has a background in web development dating back to the mid 90's and has had an enthusiastic passion for online success since 2003.
###